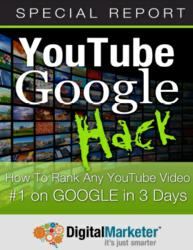 With these two dominate forces combining to support the marketing strategy of a business or entity, there's no telling how far a simple video upload can go.
Austin, TX (PRWEB) April 15, 2012
Since YouTube was started, video uploaders have been trying to find out how to boost YouTube views and improve the web presence of a business or personality. The advantages of YouTube (and its close and personal relationship with Google) are the stuff Internet marketers dream of: huge customer bases, searchable information, free targeted traffic, and increased web visibility. With a little help, any YouTube video can be the ticket to higher recognition and exceptional sales opportunities.
Today's DigitalMarketer.com article said the marketing wizards at DM have developed the go-to guide for YouTube and Google marketing, designed to answer questions and share successful strategies for using the tools offered by the two web giants. The tips and tricks included in the recently-released Special Report inspired the title "YouTube Google Hack: How to Rank any YouTube Video #1 on Google in 3 Days."
Selling on YouTube is not completely new, the article said, but now is the time to get informed about the best practices guaranteed to increase YouTube views. "YouTube Google Hack" takes the expert knowledge of the Digital Marketer team and adds research and analysis from other educated sources to create the perfect marketing plan.
YouTube makes it so easy to spread video content to all corners of the Internet, and includes a multitude of tagging and description features. These can help customize and characterize a video, which enhances the overall search effect, the article said.
YouTube and Google are constantly improving the inner workings of their sites, maximizing the effect on any high-ranking content. Since Google owns YouTube, the search engine gives videos uploaded to a YouTube Channel preferential treatment. The article said that means YouTube videos that match search queries will be instantly shoved to the front of the line, increasing the odds of earning a view.
The article said YouTube is one of the largest, most used websites in the world, and Google holds the top spot in virtually every measurable category. With these two dominate forces combining to support the marketing strategy of a business or entity, there's no telling how far a simple video upload can go.
Digital Marketer provides entrepreneurs with the information and confidence to create powerful marketing strategies. Its cutting-edge techniques have produced sales increases and magnified recognition for a multitude of business types. It releases Special Reports like this one, as well as other educational courses and materials to its subscribing members. Join DigitalMarketer.com's membership program and gain access to this Special Report and the rest of what Digital Marketer offers.
Marketers will be able to establish their brands through smart content creation and innovative marketing techniques using Digital Marketer's Special Report. Those who learn how to boost YouTube views with "YouTube Google Hack" will have a great advantage over the competition.