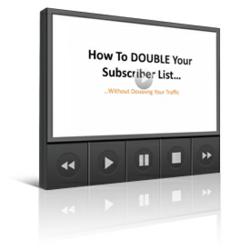 Simplify things with Digital Marketer's "Double Your List" RAW Training and be confident that the adjustments and improvements will instantly produce results.
Austin, TX (PRWEB) April 30, 2012
The latest DigitalMarketer.com article said "if you aren't interested in finding out how to build your email list, you must have this marketing thing mastered." That's the work of a marketing genius, earning those big bucks with such awesome customer-grabbing techniques.
If marketers would truly like to know how to build email lists naturally, without having to increase traffic to their website, then Digital Marketer has the perfect tool, said the article. Digital Marketer has come out with a RAW Training course and Special Report on building subscribers with the traffic that's already there.
"How to Double Your Subscribers Without Doubling Your Traffic" is the how-to guide for getting a bigger list. A bigger list leads to more eventual sales, and that's the end result all marketers want, the article said.
"Double Your List" is available as a RAW Training course, which is offered initially as a live, interactive presentation given by Digital Marketer's knowledgeable experts. In it is a full description of the ten best ways to boost email lists, which have been extensively tested and analyzed to produce maximum results.
The article said that as fast as Internet marketing evolves, it's always a good idea to stay on top of the latest trends and keep an edge on the competition.
The RAW Trainings are joined live by Digital Marketer Lab members who can ask the presenters questions about the subject matter and get instant answers. The sessions are always recorded and made available for future use, said the article. They're supplemented with a collection of best resources and services that DM knows about and uses for its own marketing methods.
"Double Your List" focuses efforts on boosting conversion rates to their fullest potential in a way that's far cheaper and easier than any traffic-increasing attempts, the article said. By making simple adjustments to opt-in forms and subscription banners, the effects are almost immediate. Features as simple as color, location, and length of text make a big difference in conversion rates.
Digital Marketer helps businesses and entrepreneurs gain insight and information on the trends, data, and strategies that can take them to the top of their industry. Through RAW Training courses, strategic plans, blogs, and Special Reports, Digital Marketer assists anyone in their business-building needs. For more information, visit DigitalMarketer.com.
Digital Marketer knows what works in a variety of circumstances because they've researched and analyzed huge amounts of tested data. The article said, "DM's RAW Training promises to show you how to build your email list with the most innovative strategies to date."