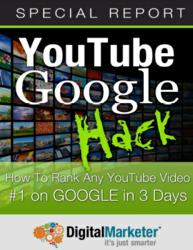 Educated leads are more valuable than uninformed leads, and YouTube makes it easy to create informative videos.
Austin, TX (PRWEB) April 14, 2012
Marketers have been wondering how to get more YouTube views now that they have realized the power and potential of both YouTube and its owner Google, two of the largest Internet forces in existence. Since they hold such a tight relationship, any high-ranking YouTube video gets an instantaneous boost in Google rankings. When content is at the top of World Wide Web, nothing will stop people from viewing it.
Today's DigitalMarketer.com article said that is the reasoning behind the latest Special Report, "YouTube Google Hack: How to Rank any YouTube Video #1 on Google in 3 Days." It's a cutting-edge strategy that will help position a business for growth and get a jump on the Internet video revolution. Plus, the free traffic from Google doesn't hurt, the article said.
The idea around YouTube video creation is website visits and sales, which are enhanced through the unbeatable Internet presence YouTube and Google combine to create. Web videos give businesses the opportunity to encourage viewers to visit their websites, where they can opt-in to a subscription service or even decide to purchase something. The article said it's all about making information and content available to the biggest audience possible.
Consider that the top ranking in Google searches receives a little less than half of all clicks, around 46%. Click numbers are reduced by half with each following result, the article explained. The second place finisher gets about 25%, and the third manages to grab 13%. The rest of the results on the front page are left to struggle over the final 16%. With "YouTube Google Hack," videos are specifically designed to rise to the top.
Also, the advantage of using YouTube videos to keep customers informed produces a much better chance of making money, said the article. Educated leads are more valuable than uninformed leads, and YouTube makes it easy to create informative videos.
The Special Report from Digital Marketer advises on the ideal video length, several common video objectives, and the seven sequenced steps that will create the most effective YouTube upload. The assistance doesn't stop there, as "YouTube Google Hack" continues enhancing the aftereffects of a video submission with its recommendation of the ideal SEO and description techniques. These strategies are proven to attract more views and push a video up the rankings ladder, the article said.
Digital Marketer provides entrepreneurs with the information and confidence to create powerful marketing strategies. Its cutting-edge techniques have produced sales increases and magnified recognition for a multitude of business types. It releases Special Reports like this one, as well as other educational courses and materials to its subscribing members. For more information visit DigitalMarketer.com.
There is more research in "YouTube Google Hack" than any online course or "…for Dummies" guidebook, said the article. For the best source of useable, productive advice on developing a strong marketing strategy, turn to the experts at Digital Marketer. Find out how to get more YouTube views and take on the world of Internet marketing with two web superpowers.