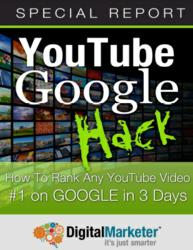 The Special Report will show marketers how to get set up as a video maker and start their YouTube campaign.
Austin, TX (PRWEB) July 02, 2012
Marketers have been trying to find out how to get traffic on YouTube since the video sharing site set forth the visual revolution of the Internet. If that's a new concept, then the latest article from Digital Marketer said to keep reading.
Online traffic is turning into a movie theater, said the article. Some experts have estimated that video-based web browsing will reach 90% of all online traffic by the year 2015. If that's even half true, then Digital Marketer's Special Report will be of serious value to any online business.
"YouTube Google Hack: How to Rank Any YouTube Video Number One on Google in Three Days" is full of beneficial information needed to start making money on YouTube by this weekend, and there's no need for celebrities, fuzzy kittens, or even cameras.
The Special Report will show marketers how to get set up as a video maker and start their YouTube campaign. The article said they'll be poised for success if they follow the easy-to-understand guidance of Digital Marketer; they will explain the best ways to get YouTube hits.
Online presence can be significantly boosted by a high-ranking YouTube video, said the article. On the other hand, a bad video and a bad response can ruin hopes of being successful in online campaigns.
Digital Marketer knows businesses are trying to attract customers in any way possible. The online article said the power of YouTube is an amazing thing, which is why understanding how to use it is so vital to online business.
The message can carry just as much—if not more—of the weight as the medium. Professional cameras and lighting, big-name talent, and over-production don't promise success. Engaging content is what's most important, said the article.
Digital Marketer releases informational and educational materials to help businesses and entrepreneurs gain insight and information on the trends, data, and strategies that can take them to the top of their industry. Through their RAW Training courses, strategic plans, blogs, newsletters, site reviews, and Special Reports, Digital Marketer supercharges every single marketing campaign it touches. For more information, visit DigitalMarketer.com.
When it comes down to it, the article said video is the way of the Internet's future. Making a video and uploading it to YouTube can be as simple as marketers make it. Once they realize how to get traffic on YouTube, the article said they'll be counting their lucky stars that this powerful weapon of online authority is at their disposal.