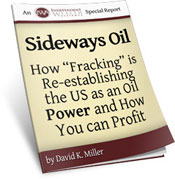 With "Sideways Oil," normal, everyday traders are learning how to get in line for the portfolio-padding investments that are connected to fracking.
Austin, TX (PRWEB) May 29, 2012
Today's AbsoluteWealth.com article said people need to know how to invest in oil stocks if they are to stand any chance of benefiting from the booming industry being developed inside the hydraulic fracturing realm. Over 40 years ago, oil well drillers found a way to turn their vertical drills perpendicular, and access even more fossil fuels horizontally underground. This super drilling technique, known to insiders as "fracking," is breathing new life into the oil industry and helping turn America into an energy independent country, said the article.
Fracking is becoming less and less of a secret as the days go by, which is why Absolute Wealth rushed to release their Special Report, "Sideways Oil: How "Fracking" is Re-Establishing the U.S. as an Oil Power and How You Can Profit." It's an expertly-resourced informational guide to fracking as well as investing in the companies that show the most potential, said the article. With "Sideways Oil," normal, everyday traders are learning how to get in line for the portfolio-padding investments that are connected to fracking.
The Special Report quotes the American Oil and Gas Historical Society as saying that "Today, about 30% of U.S. recoverable oil and natural gas reserves are accessible through hydraulic fracking – about seven billion barrels of oil and 600 trillion cubic feet of natural gas." Those numbers alone should be reason enough to catch on to the fracking train and ride it to profit potential, said the online article.
Of course, investing in fracking companies, like any investment, is not without its risks. Fracking is a particularly sensitive situation because of accusations that it causes underground water contamination, and is even being blamed for earthquakes. Despite the lack of evidence in these concerns, the article said the fracking community is taking steps towards safety and efficiency and working to keep things clean.
Absolute Wealth is an expert team of real investors and advisors devoted to identifying winning strategies for exceptional returns. Members subscribe to the Independent Wealth Alliance for professional investment analysis and recommendations on the latest trends and progressions. For more information and subscription instructions, visit AbsoluteWealth.com.
Every investor knows that stable income beats volatility every time, said the article. The oil industry, for the first time in a generation, is stabilizing and creating real opportunities for wealth generation. The best sources of stable income come from the stocks that represent a fundamental part of the economy, and fossil fuels certainly fit that description. In order to learn how to invest in oil stocks, the article suggested getting a hold of the Special Report from Absolute Wealth, and finding the companies that stand to make the most money.