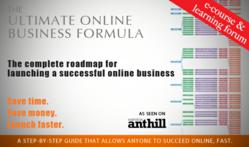 "I found Caroline's program invaluable and once put into action extremely effective. My most powerful realisation was the 'affordable' tools available to market can be quite powerful once you know how to use them." Travis Molloy, Ulbrick Sound
Melbourne, Victoria (PRWEB) June 11, 2013
Carolina Balinska, an entrepreneur, online marketer and web developer, today announced the launch of 'The Ultimate Online Business Formula', offering a step by step guide for the business owners who need to get a professional website that will make money for their business. The formula is divided into 14 modules that are simple and easy to understand and follow. Sources confirmed that the modules have been designed keeping in mind the business owners who do not have basic knowledge related to online marketing as well as web development.
The formula allows the users to complete the steps all by themselves and it is a handy option for those who are on a tight budget and do not have the money to spend on someone else doing the setup. When contacted, Carolina said, "For small businesses without a big budget, it is hard for them to know what can be done to create a successful website. There are many areas that can be done by the business owner for free and just a little bit of their time. This guide gives the cheapest options (usually free) for setting up every area of an online business." The guide also comes with a budget planner for business owners to get an estimate of what they are required for their budget before hand.
According to the sources, each module also follows up with a dedicated forum section where people can ask questions related to the topic. If experts are to be believed, the formula is laid in a manner that resembles a consultant guiding a client on each step in detail to get the desired results. There is no geek speak or fluff. Layla Stanton, a buyer of the formula said, "I have lost count of the dollars I wasted on using the so called 'professional' web designers. I have now built my own website, using a few of the tips in this guide and have had a remarkable improvement in genuine enquiries for my business services."
About Caroline Balinska
Caroline is a renowned entrepreneur, online marketer and web developer. She found her passion lay in the online world, starting with her own websites then moving on to consulting other businesses. She found that the same questions were being asked as the same problems kept arising for small business owners. Caroline realized that all the knowledge that she had in her head could be packaged up for anyone to learn, not just for businesses able to pay for one on one consulting.