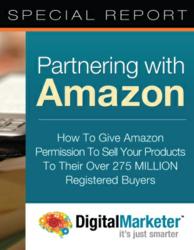 In any given month, there could be up to 100 million people on Amazon.com.
Austin, TX (PRWEB) April 06, 2012
Once marketers know how to setup Amazon Store, the incredible power of Amazon and its Internet clout takes over. Content and products are made available to a herd of paying customers who use Amazon for its ease and reliability. A relationship with the e-retailer giant will make any entrepreneur ditch the traditional selling tools and vie for the innovative approach to modern marketing.
Digital Marketer's latest informational release "Partnering With Amazon: How to Give Amazon Permission to Sell Your Products to Their Over 275 Registered Buyers" was highlighted in a recent DigitalMarketer.com article, and it gives businesses strategies for making the connection and selling content, products, and services on Amazon.
Amazon's features get businesses connected to one of the most popular websites on the Internet. The DigitalMarketer.com Special Report makes it easy to progress through all these opportunities, and offers up a loyal customer base that small businesses could never imagine. The article said that the online retailer will handle all payment and shipping duties, and it will put interested customers one click away from the items they want.
The article also describes the process involved in CreateSpace, Amazon's print-on-demand service, and Kindle Direct Publishing, the digital content sharer. These both make publishing with Amazon a breeze.
One of the most important features of a relationship with selling on Amazon is the actual buying process, said the article. Customers on Amazon have their credit card information pre-stored in a secure website that they trust. When people know they are a click away from the exact products they need, the Digital Marketer report makes it easy to setup Amazon store.
"Partnering With Amazon" puts Amazon's webpage rank at number five in the United States. Its bounce rate is only 30%, meaning only three of ten users visit only one page, explained the article. In any given month, there could be up to 100 million people on Amazon.com.
Digital Marketer provides entrepreneurs with the information and confidence to create powerful marketing strategies. Its cutting-edge techniques have produced sales increases and magnified recognition for a multitude of business types. It releases Special Reports like this one, as well as other educational courses and materials to its subscribing members.
The "Partnering With Amazon" Special Report was developed to help businesses learn how to get started selling their products, and the article mentioned the advantages the website offers. Download it now and find out how to setup an Amazon store with security, ease, and efficiency. For more information, visit DigitalMarketer.com.