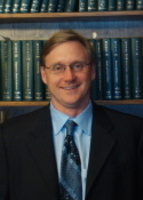 For the Parker's as well as our clients it is important to note that circumventing the rules of evidence and not being the original lender are the foundations to a strong defense against foreclosure. We challenge the standing issues and rules of evidence
Westwood, NJ (PRWEB) February 26, 2011
"It's a sad story and all too real for clients that have come to us in New Jersey looking for help with stopping the foreclosure process. The story about Kendra and Todd Parker trying to avoid foreclosure without missing a payment is something that is unfortunately not unique," says lawyer Joshua Denbeaux of the law firm Denbeaux & Denbeaux. He sees the Mortgage Electronic Registration System, known as MERS, at the root of the problem and uses a mortgage foreclosure defense that is a way to stop foreclosure in New Jersey.
Formed in 1989, Denbeaux & Denbeaux is a law firm located in Westwood, New Jersey, dedicated to providing top level legal representation to its clients. The partners, Marcia and Joshua Denbeaux, represent individuals and businesses in New Jersey State and Federal Courts. The firm primarily practices civil litigation, with a concentration in mortgage foreclosure, business, insurance coverage and employment litigation.
According to an article by Yepoka Yeebo on 2/16/11 in the Huffington Post, the problems started for the Parkers when they found out that their loan would no longer be serviced by the original lender, Metropolitan National Bank, but would be handled by PHH Mortgage of Mount Laurel, New Jersey.
PHH Mortgage of Mount Laurel, N.J., is ranked eighth among America's top 10 mortgage servicers by volume of loans serviced, according to a list compiled by Mortgage Servicing News. Bank of America and Wells Fargo top that list.
In an interview with Housing Wire last year, PHH President Luke Hayden said "There are opportunities for lenders who are willing to rethink traditional approaches to originating, servicing and investing mortgage products."
In order for lenders and mortgage services to capitalize on this opportunity, they needed a way to move the vast amounts of mortgage documents and verifications from one lender to another. The problem was that to be able to legally transfer a mortgage, the paperwork had to be hand signed and filed with the local country clerk. A cumbersome and tedious task, but one that has been at the heart of American real estate law for centuries. The solution came in the Mortgage Electronic Registration Systems, or MERS, Merscorp Inc., operator of the electronic-registration system which now contains about half of all U.S. home mortgages.
Lenders and servicers tried to argue that circumventing the established practice of providing original hand signed and "wet-ink" documents and going to an electronic registration system between banks was an acceptable practice and provided proof necessary to transfer a mortgage. However, it was recently ruled by a Federal bankruptcy judge that MER's has no legal right to transfer the mortgages under its membership rules.
According to the Feb. 10 opinion of Bankruptcy Judge Robert E. Grossman in Central Islip, NY, in the case of Agard, 10-77338-reg in the U.S. Bankruptcy Court, Eastern District of New York, "MERS's theory that it can act as a 'common agent' for undisclosed principals is not supported by the law. MERS did not have authority, as 'nominee' or agent, to assign the mortgage absent a showing that it was given specific written directions by its principal."
In other words, a lender has no legal right to transfer mortgages using the MERS system.
Josh Denbeaux says, "For the Parker's as well as our clients it is important to note that circumventing the rules of evidence and not being the original lender are the foundations to a strong defense against foreclosure. We challenge the standing issues and rules of evidence. This causes the Plaintiff to lose the motion for Summary judgment based on failure of proofs. We are finding that other lawyers are coming to us for help in New Jersey to help with their cases because of our successful defenses with these kinds of cases."
Homeowners need to be in a proactive state of mind in order to know their rights and make good choices about their options when dealing with banks. If you have questions about a home foreclosure, or are having difficulty in getting a home loan modification please call Joshua Denbeaux of the Westwood, New Jersey, law firm, Denbeaux and Denbeaux to answer your questions at 201-664-8855. or send an email to pr(at)denbeauxlaw(dot)com
# # #