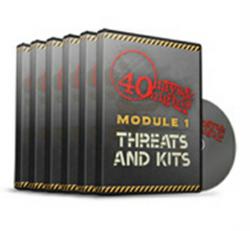 Absolute Rights is providing the information and step-by-step instructions on preparing people and their families for the worst disasters imaginable with their new survival training course, "40 Days and 40 Nights."
Austin, TX (PRWEB) May 25, 2012
Knowing how to survive a catastrophe is a valuable skill, but not every American is on the same preparation level. In fact, today's AbsoluteRights.com article said that a large majority has never bothered to take any precautions, whether it be stockpiling food supplies or creating a family emergency plan. These are the types of things that everyone desperately needs, but not enough people have.
Thankfully, the article said that Absolute Rights is providing the information and step-by-step instructions on preparing people and their families for the worst disasters imaginable with their new survival training course, "40 Days and 40 Nights."
It is the biggest and most complete system Absolute Rights has come up with to provide the relevant emergency preparedness measures that can be started today and implemented into daily life activities. It's not too late to start working towards a better understanding of disaster preparations, said the article. But if a hurricane, flood, or earthquake happens before people get a chance to join the membership program, then it's up to their own skills and prior foresight.
The familiar concerns about natural disasters revolve around manmade ones as well, and the article said the inevitability increases by the day. There are realistically effective steps that can be taken today not to prevent it, but to keep people safe from its destruction.
The innovations of digital information and the Internet have created a completely virtual world where people stand as vulnerable as they are to hurricanes or earthquakes. Identity, finances, and privacy are all at stake in today's modern era, said the article. The threats are very real, and Absolute Rights is giving people the power of defense against the unpreventable.
Absolute Rights informs patriotic Americans on their given rights, plus helps protect those rights from government or disaster intrusion. Most importantly, it prides itself on alerting people when their rights are being threatened, creating an active and informed community. For more information, be sure to visit AbsoluteRights.com.
By joining the community being formed by the "40 Days and 40 Nights" training program, the online article said people will have access to a full-service survival website. There they will find the training modules that make up the course, as well as several resources that can help devise the perfect emergency plan. The article said now is the time to take action and prepare the necessary supplies and skills that are needed to learn how to survive a catastrophe.