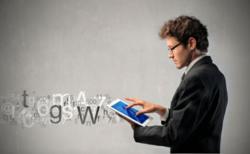 Pinterest's massive growth and potential has put it in third place behind Twitter and Facebook in the rankings for the most commonly-used social media sites.
Austin, TX (PRWEB) May 26, 2012
Learning how to use Pinterest for marketing will push a company's Internet scope into the web's stratosphere, said today's DigitalMarketer.com article. Pinterest is catching up with the other leading social media sites, and represents the newest way to get free traffic and take advantage of the pinning phenomenon.
Now marketers are catching up to its consumer-interaction effectiveness with the help of Digital Marketer's latest RAW Training session. "Pinterest for Marketers: Pin It to Win It" is the webinar-style presentation given by social media expert Kate Buck Jr. which uses DM's innovative techniques for capturing the newly-exploded website's powerful influence.
Pinterest gives users an online place to create a virtual scrapbook, but the article said it's much more than that. It qualifies as sophisticated curation with a focus on image-driven content, and also serves as a bookmarking site beyond its typical social media capabilities.
What's most important, according to the article, is Pinterest's tremendous growth, which has beat out any website that has come before it. There are nearly 12 million monthly unique visitors on Pinterest, 9 million of which are connecting to the site through Facebook. Already, 98% of all pins have been shared on Facebook, the article said. Imagine the leverage a business can receive by tapping into such a powerful social media relationship. Accessing the knowledge in the RAW Training will help anyone understand how to get Pinterest traffic, said the article.
Pinterest's massive growth and potential has put it in third place behind Twitter and Facebook in the rankings for the most commonly-used social media sites. It's taking the Internet by storm, and online marketers are rushing to gather the information needed for a viable Pinterest strategy.
Thankfully, they're finding it in "Pinterest for Marketers." With all the amazing Pinterest features explained in the RAW Training, businesses are learning all the dynamic ways the site can be used to develop a bigger customer base and better engagement with their followers. From storytelling to contest creation, Pinterest gives marketers so many ways to turn interested individuals into paying customers.
Digital Marketer releases informational and educational materials to help businesses and entrepreneurs gain insight and information on the trends, data, and strategies that can take them to the top of their industry. Through their RAW Training courses, strategic plans, blogs, newsletters, site reviews, and Special Reports, Digital Marketer supercharges every single marketing campaign it touches. For more information, visit DigitalMarketer.com.
The online article said corporate identity is as important as it has ever been, and using an image- and photo-driven method to execute that strategy is a no-brainer. That's why Pinterest is such a popular way to generate new leads and peak people's interest in a particular company. Once they know how to use Pinterest for marketing, the article said companies are able to tap into the best new source of web traffic and authority.