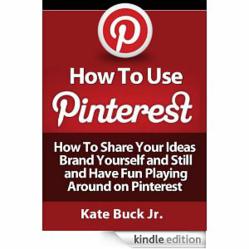 As a special introductory offer, Digital Marketer is charging absolutely nothing for "How to Use Pinterest."
Austin, TX (PRWEB) July 25, 2012
"How to Use Pinterest: How to Share Your Ideas, Brand Yourself, and Still Have Fun Playing Around on Pinterest" is the brand new e-book now available for Amazon's Kindle from the experts at Digital Marketer.
The e-book is jam-packed with advice and suggestions for using Pinterest for all its marketing and business-building power. Connecting to the newest and fastest growing social media site of recent history will bring web authority and Internet recognition to any business or personality, and the e-book shows exactly how to do it.
As a special introductory offer, Digital Marketer is charging absolutely nothing for "How to Use Pinterest." From 6:00 am on Wednesday, July 25 until 12:00 am on Friday July 27, "How to Use Pinterest" is completely free. After that, it will cost the suggested digital retail price of $2.99.
Readers of the e-book will learn how to optimize their Pinterest account and triple the leverage of the powerful site to get traffic to a website immediately. It also shows how to partner Pinterest efforts with YouTube, Facebook, and Twitter to spread the effect far and wide.
"How to Use Pinterest" also shares information on the kinds of photos that work their way to the top of Pinterest, pulling 10,000+ clicks without any more than a simple pin. And of course, it will prove how adding a Pinterest button in the right spot will enhance an account's clicks by three times the normal amount.
Be sure to capitalize on the special free offer that will only last for a limited time, and learn the tips and tricks that will boost a Pinterest experience beyond the wildest marketer's imagination.