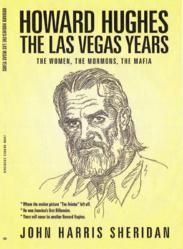 He (Howard Hughes) wanted to use the TV station as his personal VCR!
El Paso, Texas (PRWEB) October 23, 2012
What really caused the death of America's first billionaire, Howard Hughes, is just one of many heretofore untold stories by author John Harris Sheridan, who worked for Hughes during his glory days.
In "Howard Hughes: The Las Vegas Years – The Women, The Mormons, The Mafia" (AuthorHouse), insider Sheridan tells stories that reveal new aspects of an American icon, set against the background of Sin City, the town Hughes loved so much.
One of the book's many uncanny, and oft unbelievable, stories describes the time Hughes called the television station he owned in Las Vegas late one night, asking Sheridan, who was on duty, to play the hit movie "Bullet" starring Steve McQueen, after a late night talk show, while it was still in theaters. As Sheridan recalls, "He wanted to use the TV station as his personal VCR!"
Sheridan also reveals why Hughes had an affinity for Mormons, his involvement with starlets, Frank Sinatra & the Rat Back, connection with the Mafia, and how he would sometimes spend millions, mearly to prove a point.
Sheridan's book features exclusive artwork by celebrated artist, Nacho Garcia.
The Howard Hughes tell-all is available on Sheridan's official website, JohnHarrisSheridan.com as well as, Amazon.com and Barnes & Noble retail outlets. The site also includes a special video interview with many of the salacious stories that await readers in John Harris Sheridan's "Howard Hughes: The Las Vegas Years – The Women, The Mormons, The Mafia!"
Biography
John Harris Sheridan comes from a show business and sports family. His Grandfather, John P. Harris, owned Vaudeville theaters. Harris was a friend of Thomas Edison and started showing Edison's short motion pictures in 1897 between Vaudeville acts. The older Harris opened the worlds's first all-motion picture theater in Pittsburgh, Pennsylvania, and coined the name "Nickelodeon." His uncle, John H. Harris, was the founder and president of the Pittsburgh Hornets of the American Hockey League and president and creator of Ice Capades.
After high school, John joined Ice Capades as a skater. It was the greatest experience of his life-skating with world and Olympic champions and performing in the United States and Canada. After two years on the road, he returned to school at Phoenix College and Arizona State University.
John has worked in television most of his life, including time in Phoenix, Las Vegas, Reno, St. Louis, Los Angeles, and El Paso. He has done just about everything in the entertainment business, from directing Barbra Streisand in Las Vegas, to BIG-10 Football on television, The Jack La Lanne Show in Los Angeles, to directing evening news programs in Los Angeles and Las Vegas and Mid-Day L.A. in Los Angeles.
It was early, 1968, when Sheridan went to work for KLAS-TV in Las Vegas: He didn't realize he would be working for Howard Hughes, who owned the television station. That's where John's book begins.