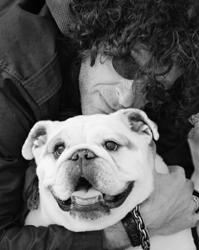 The news of any dog's passing is painfully felt in all of us and we are truly sorry for Mr. Stern's loss.
Boca Raton, FL (PRWEB) July 31, 2012
Radio "shock jock" and America's Got Talent judge Howard Stern and his wife Beth Ostroky Stern announced the passing of their 10-year-old beloved English Bulldog Bianca last week.
Stern Tweeted on Tuesday, ""Tough day today my friends. Thanks to all for all the kind messages. Give your dog a hug for me tonight"
On Wednesday, Stern nearly broke down in tears talking about Bianca on his popular Sirius satellite radio show. He said on air, "I've learned I'm human because I'm so touched by my dog. My dog taught me how to love - love deeper."
Today reported Bianca was a rescue and part of the family since 2002. By all accounts, Bianca was a cherished member of the family, making several television and print appearances. She graced the cover of Ostrosky Stern's book, "Oh my Dog: How to Choose, Train, Groom, Nurture, Feed and Care for Your New Best Friend" and made an appearance on the Tyra Banks show. Bianca inspired the Stern's to become advocates for dogs in need. They work closely with the North Shore Animal League, and have adopted 3 cats through their rescue program.
Dogington Post was touched by the show of emotion by Howard Stern on his radio program. The online dog news site offers their sincerest condolences to his family.
"We are a group of dedicated dog lovers," said Brooke Arnold, contributor for Dogington Post. "Many of us have felt the pain of losing a dog and can empathize with Mr. Stern's suffering. The news of any dog's passing is painfully felt in all of us and we are truly sorry for his loss."
In light of Bianca's passing, Dogington Post published an article highlighting the famous bulldog. The site also offered its readers advice on dealing with pet loss; knowing when it's time to let the family pet go; and tips for the healing process.
The online dog news site reaches over 1.6 million dog lovers every week. By bringing light to Howard Stern's recent loss, Dogington Post will reach out to others who are struggling with the death of their own dog or agonizing over the decision to end a dog's suffering; a choice the Dogington Post says is never easy and often very difficult to overcome.
For more information about Dogington Post and their effort to reach out to Howard Stern and other dog parents dealing with loss, visit http://dogingtonpost.com and check them out on YouTube.
About Dogington Post:
DogingtonPost.com was created for the love of dogs. It promises a forum of informative articles, newsworthy dog stories, health and breed information, and heartwarming videos. The site addresses current issues affecting dogs and their human parents – from serious health concerns to lifestyle issues on feeding, grooming and the overall well-being and mental health of dogs. It is the Internet newspaper, all about dogs.