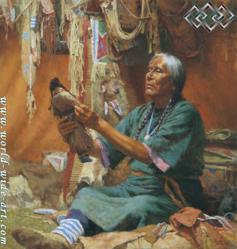 This is a wonderful piece that really showcases Howard Terpning's passion for depicting the American West and beautiful still moments.
San Francisco Bay Area, CA (PRWEB) October 28, 2011
Well-known art gallery and custom conservation framing company World Wide Art, Inc. is pleased to announce the availability of "New Doll for My Granddaughter" by Howard Terpning.
The painting depicts one of the more quiet moments in the lives of the Plains Indians. An elderly woman sits in an ornate tipi, working lovingly on a small doll that she will give to her granddaughter. Although she shows her age and her weariness on her face, her eyes emanate a sort of quiet fondness as she thinks of her granddaughter receiving her gift. Terpning has noted that he drew his inspiration for this painting from the love he feels for his own granddaughters.
"This is a wonderful piece that really showcases Howard Terpning's passion for depicting the American West and beautiful still moments," said David Wilfong, spokesperson for World-Wide-Art.com. "We are very pleased to carry this great work of art at our gallery for all to enjoy."
Howard Terpning is arguably the best Western painter of our time, and he has received mounting awards and recognitions from a wide range of organizations and publications. He has garnered all of the most prestigious awards in Western art, including the National Cowboy Hall of Fame's Prix de West, the Hubbard Art Award for Excellence, Eiteljorg Award for Excellence in American Western Art, the Lifetime Achievement Award from the Autry National Center and more Gold and Silver awards from the Cowboy Artists of America than any other artist.
Terpning paints not for critical acclaim, however. Rather, he paints because of his deep desire to keep the culture and heritage of Native Americans alive through art. Those who collect his works have the same goal, and eagerly anticipate each new release.
While art featuring the Plains Indians often centers on warfare and the hunt, women played equally important roles in Native American life. The domestic and ceremonial life of the tribe centered on women and their work, and women like the one in this painting were truly the heart and soul of their tribes.
"The passion, devotion and respect Terpning feels for his subject matter shines through in 'New Doll for My Granddaughter,'" said Wilfong. "The feminine nature of this particular painting makes it distinctive within Terpning's body of work. The artists' other works that focus on women in tribal life are highly sought-after and have often sold out quickly."
In addition to Terpning's "New Doll for My Granddaughter" painting, World-Wide-Art.com offers countless other new releases, limited editions and honored collections by today's top artists. For more information and to browse the company's selection, visit http://www.world-wide-art.com.
# # #