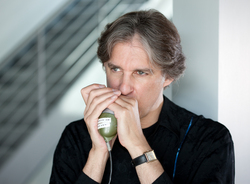 It is truly an honor to be recognized as the Harmonica Player of the Year by the SPAH organization. -Howard Levy
Napa, CA (PRWEB) September 20, 2010
ArtistWorks, Inc. (AWI) Howard Levy, recently named the SPAH Harmonica Player of the Year, has completed a busy month by recording "A Chat with Bela Fleck," a two-part exclusive video series available only at the Howard Levy Harmonica School online in which the two compare creative processes, the incredible uniqueness of their banjo and harmonica playing styles, and how they synergize to create a legendary sound. Fleck and Levy share insightful lessons, stories, and experiences playing and collaborating together as well as offer a private improvised jam to wrap up the interview series.
In August Howard Levy was honored with the coveted 2010 Bernie Bray Harmonica Player of the Year Award from the Society of the Preservation and Advancement of Harmonica (SPAH) as presented at the annual SPAH Convention held in Minneapolis, MN. Howard received this most prestigious award for revolutionizing and advancing the instrument with his unique ability to play chromatically on a diatonic harmonica and for his excellence in teaching at the online Howard Levy Harmonica School. The award was presented by the 2009 recipient, Rob Paparozzi, in a special ceremony closing out the SPAH convention. A video of the award presentation and acceptance can be seen here.
The Flecktones reunion plans led Bela Fleck and Howard Levy to spend some time at Levyland Studios in Chicago recently, collaborating on several new tunes in preparation for their fourth record together. The interview sessions were recorded as the original Bela Fleck and the Flecktones gear up for their first full reunion in 18 years. (Original lineup also features brothers Victor and Roy "Futureman" Wooten on bass and drums respectively). The interview with Fleck can be seen at the Howard Levy Harmonica School, an online video-exchange-based learning site for harmonica players created by ArtistWorks and led by the master himself.
Launched in December 2009, the Howard Levy Harmonica School has experienced a surge of new student enrollment and the support of top industry leaders and media. The nature of the innovative Howard Levy Harmonica School is its appeal to players from novice to virtuoso. The range of music taught includes Blues, Jazz, Folk, World Music and more, with technical instruction in bending, overblowing, developing speed, and basic music theory to help students be able to play well in all these styles. "I'm fascinated by the varying levels and styles of players at my school and that they are from all over the world. What an international instrument and far reaching technology!" says Levy.
The HLHS hosts hundreds of HD video lessons, with more added each week including effective tips for harp players to simply improve their playing or hone their skills. In addition to optional video exchange interaction with Howard, students participate in a very active, supportive online community and share their techniques as well as help each other advance in their playing. Hohner USA has embraced the program with an exclusive offer of a "Special 20" harmonica (valued at $47) to new student members who enroll using the "HAWP247" promotional code. Enrollment is just $60 for three months of instruction.
Learn more at http://www.howardharmonica.com.
About ArtistWorks:
The ArtistWorks online visual education format allows virtuoso musicians to "Teach the World" by presenting their full method, technique or curriculum in HD video to subscribing students of their sites. Simple webcams are used by the students to submit videos to the Artist through the site, for critique and guidance. The Artists easily review student-submitted videos using the ArtistWorks Video Management System (patent pending). These "video-exchanges" are posted for all subscribing students to learn from the teacher and from each other. This groundbreaking use of video-exchange for the instruction of musical instruments has been implemented at the Howard Levy Harmonica School, Tony Trischka School of Banjo, Qbert Skratch University, Peery Piano Online, Andreas Oberg Guitar Universe, Jimmy Bruno Guitar Institute, and the Martin Taylor Guitar Academy.
Learn more at http://www.ArtistWorks.com. Follow @ArtistWorks on Twitter
###