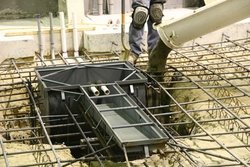 "The facility was laid out to provide our customers with improved product quality, shorter lead times, and increased available capacity..." President & CEO, Karl Kimmerling
Camden, SC (PRWEB) February 1, 2010
Next week on Monday February 8, 2010, Howden Buffalo, Inc. will open their new Midwest Regional Service Center. The facility will be a world class upgrade, rebuild, and service operation, with crane capacities of up to 50 tons. The new service center will be a center for parts and services for Gýrol® fluid drives, oil circulating systems (lube sets), Variax axial fans and Sturtevant bearings while offering 24/7/365 emergency parts and service. Legacy brands of Howden Buffalo include: American Blower, American Standard, Buffalo Forge, Green, James Howden, Novenco, Sirocco, Sturtevant, and Variax. In addition to these brands Howden Buffalo also services Westinghouse, American Davidson, and Joy Fans.
The new Midwest Regional Service Center is all about better serving Howden Buffalo customers and their needs. Howden Buffalo is taking customer satisfaction to the next level. With added resources for sales representatives, improved customer contact, and a focus on providing customers engineered solutions, Howden Buffalo has positioned themselves to be a perfect choice for their customers.
"This service center will be more than just a fluid drive house. We've set up the floor to have continuous flow for our manufacturing of fluid drives, oil lubrication systems and axial fan rebuilds. We've also upgraded our warehousing capabilities to support our customers' needs," states VP Managing Director David McDowell. "We have now expanded our customer commitment by upgrading our services and technicians with our new service center. The increased capacity that we are taking on will improve our turnaround time, ensuring customers get their needs met faster than ever."
Axial fan and fluid drive rebuilds will be performed in a controlled environment by experienced Howden Buffalo trained personnel. In addition to having their rebuild done at the service center, Howden Buffalo welcomes customers and representatives to watch their rebuilds and attend trainings or seminars at the new service center. The upgraded service training keeps their service technicians the best in the business, while offering emergency service 24/7/365.
"The new Midwest Regional Service Center goes well beyond a mere relocation of our fluid drive operation formerly in Dearborn, MI," states Howden Buffalo's President and CEO Karl Kimmerling. "We've doubled the square footage on the shop floor and significantly increased our crane capacity and height under the crane hooks. In addition to acquiring the 80,000 sq. ft. facility, we've invested in new equipment to expand our capacity for Variax fan rebuilds, oil circulating systems, and warehousing of parts. The facility was laid out to provide our customers with improved product quality, shorter lead times, and increased available capacity. We are very proud of this investment, but it is simply another step in our continued efforts to become and remain the leaders in air movement and gas handling in North America."
With expertise and safety being synonymous with Howden since 1877, they continue to surpass the expectations of customers and representatives alike. Now with the opening of the new Midwest Regional Service Center coming, the increased capacities and improvements Howden Buffalo keeps adding continues to earn them the number one spot in multiple industries. It takes expertise and perfection to be number one. It is clear that Howden Buffalo has mastered their products and will continue to offer the customers the best in the business.
Howden Buffalo, Inc. Midwest Regional Service Center (Canton, MI) 8301 Ronda Drive Canton, MI 48187 Phone: 734-454-5000 http://www.HowdenBuffalo.com .
###