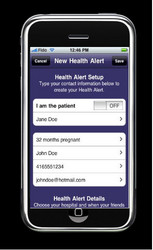 ...I felt that the most necessary and stressful communication occurred when a loved one was in the hospital. It's easy to use and adaptable to any situation whether that is a medical emergency or a celebratory event such as the birth of a new baby
Toronto, ON (PRWEB) May 7, 2010
howsthepatient is the brainchild of Susan Weisbarth and the application was developed by Due North Communications, one of Canada's leading independent advertising agencies and Isobar, one of the world's largest digital marketing networks. howsthepatient was designed to help people cope with information sharing about medical situations and is available at the iTunes Store on the web for $1.99 (US).
"Just like Isaac Newton's apple, it was a bump to the head that sparked this idea," explains howsthepatient CEO Susan Weisbarth. "I got an emergency call that my 75 year-old mother was being rushed to the hospital with stroke symptoms. Fortunately, all that happened was that she fell and hurt her head. As she was recovering in the hospital and I was inundated with calls and e-mails from concerned friends and family, I thought there had to be a better way of keeping people posted when they are worried about a loved one."
The howsthepatient on app is simple to set up by moving names from your existing contact list and regular updates can be sent exclusively to that group, unlike the less personal selection of friends and associates that might be part of Facebook or Twitter group. Once the recipients receive their first update, they can also use the app to source other information such as the location of the hospital or to facilitate the delivery of flowers or cards.
Although howsthepatient was developed as an iphone app the selected contacts can receive updates via e-mail on other PDAs such as RIM's Blackberry devices or on personal computers.
In addition to simplifying communication with a close circle of family and friends, the howsthepatient app incorporates the following features:

Discreet Networking – Connect only with your selected circle of family and friends
Instant and Efficient Communication – From a single touch point share information and updates in real time
Controlled Communication – Manage the information sent to and received from family and friends. Choose your communication status by leaving open or selecting "do not contact us at this time."
Aggregated Contacts – Choose contacts directly from your iphone and import them in to howsthepatient.
Integration with Facebook and Twitter – You have the option of further sharing your information with other social networks.
Google Map Search – Easily and quickly find the hospital location and address to assist in visits and the delivery of flowers or gifts.
Emergency Hotlines – Save emergency numbers into your account for easy access.
Instant Photo Sharing – Allows you to share photos with your contact group.
As a 50-something former co-owner of a family business, Weisbarth is not your usual app developer. However, her mother's hospitalization prompted her to find a better way to pre-empt an uncomfortable number of messages, e-mails and calls enquiring about her mother's status.
"Typically the voice of the family is the woman of the household who believes they are the 'town crier' for their family or circle of friends, and although this app could be used to selectively communicate with other groups such as soccer moms or other community organizations, I felt that the most necessary and stressful communication occurred when a loved one was in the hospital. It's easy to use and adaptable to any situation whether that is a medical emergency or a celebratory event such as the birth of a new baby," said Weisbarth.
For more information about howsthepatient, visit the iTunes store, http://www.howsthepatient.com, or call Clive Hobson at 416 722-9333.
About howsthepatient:
howsthepatient is a start-up app developer founded by Susan and Mark Weisbarth. Susan was formerly President of York Uniforms, Canada's leading independent uniform provider until the business was sold to a private equity firm in 2004. Mark is the CEO of Due North Communications Inc, one of Canada's leading independent full-service advertising agencies. Due North has been awarded internationally and in Canada, having been named one of Canada's 50 Best Managed Private Companies by The National Post.
###