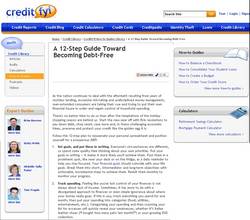 Norwalk, CT (PRWEB) December 29, 2008
CreditFYI.com, a consumer destination for everything credit and personal finance related, encourages consumers to take the steps necessary to make 2009 the year they become debt free. As the nation continues to deal with the aftermath resulting from years of reckless lending, excessive risk-taking and undisciplined money management, now is time for consumers to take action and put their own financial house in order.
With the start of 2009 around the corner, why not make "Become Debt Free" your #1 New Year's resolution? Don't know where to start? CreditFYI.com has put together a 12 Step Guide to help consumers start the New Year with the right financial foot and position themselves for a prosperous 2009.
1. Set goals, and put them in writing. Everyone's circumstances are different, so spend some quality time thinking about your own priorities. Put your goals in writing -- it makes it more likely you'll achieve them. Post them in a prominent spot, like near your desk or on the fridge, as a daily reminder to help you stay focused. Your financial goals should coincide with your life goals. Break them into short-, intermediate- and long-term objectives with actionable, incremental steps to achieve them. Revisit them monthly to monitor your progress.
2. Track spending. Feeling like you've lost control of your finances is not always about lack of income. Sometimes, it has more to do with a disorganized approach to finances or even simple ignorance about where your money really goes. If this is you, track everything you spend for one month, then put your spending into categories (food, utilities, entertainment, etc.). Categorizing your spending and then scanning your list for excesses will quickly reveal your weaknesses, whether it's Italian leather shoes ("I bought how many pairs last month?") or your growing DVD collection.
3. Change your attitudes about money. It's easy to fall off the frugal wagon, but fundamental changes in your outlook are essential to avoid lapsing into old spending patterns. Learn how to say no to your spouse or children without feeling guilty.
4. Make your credit card debt a high priority. Credit cards carry higher interest rates than any other type of loan, so it makes sense to pay off outstanding credit card debt first, before other types of loans. You'll save in interest payments, eliminate possible late payment penalties and boost your credit score.
5. Avoid taking on new debt. Aside from a house, car or college tuition, adopt the habit of saving until you can pay cash for any purchase. Deferred gratification until you can pay cash means your purchases will hold more meaning and value for you. Live within your means or, better yet, below your means.
6. Turbo-charge your savings rate. It's a recession-defense measure and could prove to be a lifesaver in the event of an office downsizing. Specify what you'll save (in writing, again), by what date and how you'll free up money to do it. Be realistic, but challenge yourself. Keep the money in a high yield, online savings or money market account, which often offer better rates than your local brick-and-mortar. And don't forget to check rates at your local credit union.
For the complete 12-Step Guide to Become Debt-Free, tips to improve your credit score in a recession, and more credit and personal finance advice, consumers can visit CreditFYI.com and the CreditFYI Blog.
About CreditFYI.com(SM)
CreditFYI.com is a one-stop portal into the world of personal finance. With hundreds of articles on credit monitoring, credit reports and scores, calculators, how-to guides, videos, financial experts and more, CreditFYI.com is the ultimate resource for all credit-related questions and concerns. Launched in 2008, CreditFYI.com is also the one destination to find the best credit card rates, apply for a loan, and learn protective measures in the area of credit fraud and identity theft.
###