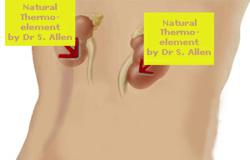 Medical professionals do have to deliver news about effective natural kidney stones treatment to their patients.
London, UK (PRWEB) January 14, 2012
Fine Treatment is the only place where you can get a new natural renal calculi dissolving treatment. New Thermobalancing Therapy enabled by Dr Allen's Device for Kidney Care dissolves any type and size of kidney stone. This device made from a soft belt and does not impede movements or make discomfort for the user.
According to National Institute of Health "You may not have symptoms until the stones move down the tubes (ureters) through which urine empties into your bladder. When this happens, the stones can block the flow of urine out of the kidneys. The main symptom is severe pain." And according to MDGuidelines: "Fluid intake is increased to encourage the passage of the calculi from the kidney, through the ureter, into the bladder, and out through the urethra. Walking also is encouraged, as this facilitates passage of calculi. A renal calculus may take from 1 to 3 weeks to pass on its own."
These explanations mean that a person who has a small kidney stone should drink a lot of liquids, can experience severe pain up to 3 weeks and pray that the kidney stone does not block the passage of urine completely. Furthermore, renal calculi less than 2 cm in size can generally be treated with extra corporeal shock wave lithotripsy that may develop serious complication in the future. Why does someone have to take such risks?
"I don't understand why someone have to be a big risk taker when there is a natural way to dissolve renal calculi", says Dr Simon Allen. "Medical professionals do have to deliver news about effective natural kidney stones treatment to their patients."
The natural thermo-elements are a key part of Dr Allen's therapeutic device which acts when they are applied to the area aligning with the damaged kidney, see the picture. This natural heating effect improves the blood flow deep inside the kidney's tissues stabilising the body temperature within the organ's tissue and thereby reduces the internal in kidney pressure improving filtration. This, in turn, helps to dissolve kidney stone completely over a period of time. For more information please visit http://www.finetreatment.co.uk/natural-alternative/kidney-stone-treatment.html.
About Dr. Simon Allen and Fine Treatment:
Dr. Simon Allen treated patients with different internal chronic diseases for 40 years. Fine treatment distributes devices for a prostate treatment, including treatment of BPH and chronic prostatitis, coronary heart disease and for recovery after a heart attack, to dissolve kidney stones and to relieve back pain in the lower and upper spine areas.
###