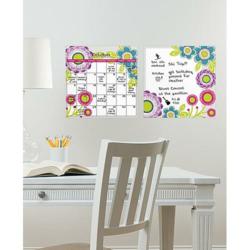 Foster an environment of support and self expression
Lake Forest, IL (PRWEB) August 23, 2012
Wall Decor Shops (http://www.Walldecorshops.com) offers fast, affordable, and fun design tips that will motivate students for success as they return to school. These simple but fresh ideas focus on supporting students with organizational tools and by allowing them to express their interests and developing personalities.
"Here at Wall Decor Shops, the leadership and staff are all parents of children of varying ages and are excited about prepping our families and our customers' families for back to school. We have focused on design ideas that foster an environment of support and self expression between parents and students; ideas that are supportive of the child's interests and passions while ensuring the child has appropriate study space in the home," remarked Erin Miller, Lead Designer and Owner of Wall Decor Shops and mother of six children.
1. Create a Study Space with Peel and Stick Chalkboards and Dry Erase Whiteboards: Something that will follow students from kindergarten to college is the ability to stay organized and manage multiple tasks. Simply peel and stick a chalkboard or dry erase calendar onto the wall so they can create a list of homework, deadlines and due dates. Many products have stylish patterns, hip colors and come in a variety of shapes and sizes to fit any space and room.
2. Use Color to Create Your Unique Space: Every child has a favorite color – a color that expresses his or her unique personality. Allowing a child to choose his or her room color fosters ownership, independence and confidence. One of our favorite tips, is to choose a paint color around a child's favorite stuffed animal, blanket, or anything he or she is passionate about. Paint departments in hardware stores and home improvement stores can color match to any household item. Simply take the item to the store and ask to color match. The color will naturally invoke a sense of ease, comfort and confidence. Paint all four walls or simply paint one wall to create an accent space as the study space.
3. Personalize the Room with Your Child's Sports Numbers or Images of Sport or Activity: It's no secret that a strong support system at home leads to a more confident individual who is motivated to work and practice hard at academics and extra-curricular activities. If a student is on a sports team, one easy way to be supportive is to use the team colors and your child's number throughout the room. Use painting tape (available at any home improvement or hardware store) to tape out the student's number on the wall, as a stencil of sorts. Paint inside the tape to create the number. Allow the paint to dry for at least a day before removing the painting tape. Another option is to have decorative bed pillows embroidered with your child's name and numbers. Wall Decor Shops offers sports themed silhouette wall decals in the shapes of various sports images, such as soccer, football, and basketball players, dancers, skateboarders and many more.
4. For the Independent Teenager with a Unique Style: Allow teens to express their individuality with unusual colors and patterns. WallCandy Arts offers peel and stick wallpaper that features bright colors and unusual subjects, such as popsicles, mustaches, apples, and even double-decker British buses! The subjects are creative and limitless! Best of all, these products are reusable, and repositionable. They are easily removed and re-installed elsewhere as your student's interests change and grow.
Wall Decor Shops is a family owned and operated business headquartered in Lake Forest, Illinois, home of owners Alex and Erin Miller and their six children. By partnering with every major wall decor manufacturer in the industry, Wall Decor Shops offers the widest selection of wall decor styles and brands at the lowest allowable prices, while providing outstanding design and customer service and the fastest possible shipping available anywhere. Wall Decor Shops is a division of Renaissance Retail, the Internet's leading source for specialty consumer products.
Contact:
Timothy Benson
Renaissance Retail
847-932-4720 ext. 2704
Email: tim(at)walldecorshops(dot)com