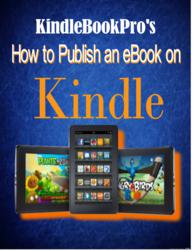 KindleBookPro's How to Publish an eBook on Kindle cut my publishing time by 76%.
Los Angeles, CA (PRWEB) August 17, 2012
New authors have taken to the self-publishing route in distributing their ebooks... and with great success. According to the Association of American Publishers and the Book Industry Group, "net sales revenue from eBooks increased from $869 million in 2010 to $2.074 billion in 2011. That's 15 percent of net revenues for publishers." Bookstats 2012 show the ebook phenomenon is steadily growing and new authors are riding that digital wave. The secret to some authors' success? Publishing on Amazon's Kindle Direct Publishing (KDP) and they've turned to KindleBookPro's How to Publish an eBook on Kindle to do it.
The popular guide approaches the subject with vivid illustrations, a bit of humor and lots of examples, and of course, a unique viewpoint that makes for a very friendly, non-intimidating read.
According to one self-publishing author, KindleBookPro's How to Publish an Ebook on Kindle has been a lifesaver. "I had never written a book and didn't know where to start. I found lots of resources but none that actually made me take that leap. A colleague suggested I read KindleBookPro's guide and I haven't looked back. A tiny investment for a huge return." The downloadable ebook (in pdf format) sells for $5 and includes 24-hour email support if you have any questions getting your book on Amazon's Kindle.
Another valuable resource for new self-publishing authors is the quirky-named site, PurpleBananaBrain.com. The high-end site has become a favorite among new authors for ebook cover design, book trailers and publicity services. Their story graphics for social media marketing, in particular, have garnered national attention and have been putting new authors on the map.
To purchase and instantly download KindleBookPro's How to Publish an eBook on Kindle, or to find a myriad of services for new authors, visit http://www.purplebananabrain.com.