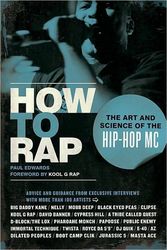 HOW TO RAP marks a cultural coming-of-age for Hip-Hop—the first comprehensive poetics of this new literary form.
Chicago, IL (PRWEB) September 8, 2010
Over 100 Hip-Hop legends teach the art form of rapping in a new book recently released by Chicago Review Press. "How to Rap: The Art & Science of the Hip-Hop MC" guides the reader through the science of rap in the words of the artists themselves, giving an inside look behind their creative processes and techniques.
Dana Gioia, acclaimed US poet and former Chairman of the National Endowment for the Arts, has lauded the book, saying, "How to Rap marks a cultural coming-of-age for Hip-Hop—the first comprehensive poetics of this new literary form." The book has also been described as "classic" by poet Nikki Giovanni, "excellent" by the Washington Post, and "highly recommended" by Library Journal.
Acts interviewed exclusively for the book include some of Hip-Hop's most prominent names, such as Black Eyed Peas, Public Enemy, Nelly, Cypress Hill, and A Tribe Called Quest. The foreword to the book was written by Kool G Rap, a rapper named as a major influence by most of the current generation of Hip-Hop artists, including Eminem and Jay-Z.
How to Rap has received offers from Japanese and Korean publishers to be translated and published outside the US, with further translation deals lined up.
The book has an accompanying Youtube channel featuring audio clips from the How to Rap interviews, with a combined viewing total of over 190,000 views since March:
youtube.com/user/howtorapbook
How to Rap is available at bookstores, or from amazon.com at –
amazon.com/How-Rap-Art-Science-Hip-Hop/dp/1556528167
For more info on the book, visit - howtorapbook.com
Or email – howtorapbook (at) gmail (dot) com
About the Author:
Paul Edwards has been interviewed as a leading expert on Hip-Hop and rap by the Chicago Tribune, HipHopDX, Chuck D 's New York radio show, the New York Amsterdam News, Australia's Acclaim Magazine, UK's Echoes Magazine, Germany's HHV Magazine, and Time Out Dubai.
He holds a master's degree in postmodernism, literature, and contemporary culture from the University of London and has done extensive research on Hip-Hop lyrics, interviewing 104 rappers for How to Rap.
###