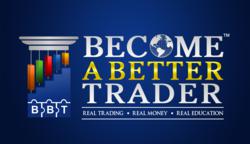 It is a true pleasure to be joining forces and presenting together on a topic that we believe will help many people be more successful in their trading endeavors
Chicago, IL (PRWEB) April 24, 2013
Become A Better Trader, Inc. is proud to announce the collaboration between CEO and International Trading Champion, Rob Hoffman, with world-renowned trader, speaker, and educator John Person of PersonsPlanet.com for the first time ever in a special online event. The two trading legends will present their "Best Setups That Are Working Now" to a worldwide audience on April 24th, 2013 at 7PM CT, 8PM ET.
When asked about this collaboration, Hoffman commented, "We are very excited to be teaming up with John Person, a trader who is also very well known in the industry. It is a true pleasure to be joining forces and presenting together on a topic that we believe will help many people be more successful in their trading endeavors."
Together, Mr. Person and Mr. Hoffman bring over 50 years of market experience and varied trading education approaches. Both have reputations for offering excellence in trading and market analysis. Rob Hoffman has been active in the financial markets for more than 18 years and is recognized as one of today's most sought after trading education mentors.
A lifelong student of the markets, Mr. Hoffman is among the most dedicated and hands on trading educators in the business. He is known in the industry as one of the few traders who openly trades his real accounts live. Mr. Hoffman strives to share his experiences as he teaches his students how to trade.
Mr. Person is a 33-year-veteran of the Futures and Options Trading industry. He started his career on the Floor of the Chicago Mercantile Exchange in 1979, and throughout his career has worked in many different sectors of the trading community. He is the author of several top rated trading courses and books, including The Complete Guide to Technical Analysis for the Futures Markets.
Interested attendees and aspiring traders of all levels are encouraged to register early to ensure a spot for what is slated to be an incredible joint presentation. To get priority access and notification of this free event, currently scheduled for April 24th, 2013 please sign up at:
https://www.becomeabettertrader.com/titans
About Rob Hoffman
Rob Hoffman is Founder and CEO of Become A Better Trader, Inc. and an 18+ year veteran of the financial markets. Mr. Hoffman is a Professional Trader, frequent speaker for the major financial exchanges, commentator on market and instrument direction. He is also as highly skilled educator and passionate mentor to tens of thousands of students from around the world, an International Trading Champion, and consultant to institutional clientele as well as aspiring traders.
For more Media Inquiries or information about this special event or upcoming events, contact Kim Thomas at media (at) becomeabettertrader (dot) com or visit http://www.BecomeABetterTrader.com
About BecomeABetterTrader.com
Become A Better Trader Inc. provides must-have educational resources in the area of Futures, Forex, Stocks, Options, and ETFs with a focus on both intraday and swing trading strategies for both short-term and long-term traders and investors. Clients range from aspiring traders to institutional clientele requiring private consultation.