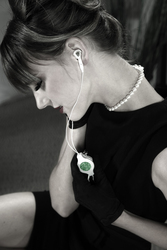 How to use earbuds. Sounds simple, right? But when we recently noticed people were having problems putting chicBuds in their ear--we found they weren't putting them in correctly
Vista, CA (Vocus) August 20, 2009
"How to use earbuds. Sounds simple, right? But when we recently noticed people were having problems putting chicBuds in their ear--we found they weren't putting them in correctly," says chicBuds founders.
Knowing how to use earbud headphones is easy once these tips have been mastered.
First, when using chicBuds standard series as seen at http://www.chicbuds.com, the clip must be attached to a shirt lapel, collar, or any part of clothing. The clip connected to the cord retractor is a convenient way to anchor chicBuds so they don't twist or tangle while working or rocking out. Then both sides of the cord must be pulled (the earpiece and the adapter) simultaneously. If pulled from one side only the cords will tangle. They should move smoothly out of the cord retractor and click into place at five varying lengths along the cord.
Next, the earbud must be placed in the ear and then twisted them towards the face to get a tighter more comfortable fit. chicBuds found that many people forget the added "twist".
Putting in inner earbuds, such as RockBuds, made by chicBuds - as seen at http://www.rockbuds.com - is different than the regular chicBuds. This design comes with a silicon tip that molds itself to the inner ear. To get the perfect fit the earbud must be pushed into the ear and wiggled a little to make sure it seals tightly and securely. Everyone's ears are different, and these self-adjusting tips are great for the unusually sized ear.
To get the cords to retract gently, one must pull both sides and the chicBuds should wind nicely into their case. If there are any problems, chicBuds guarantees the follow methods will fix the problem, otherwise, they have a lifetime guarantee.
1. If cords tangle from misuse, pull both ends carefully but firmly until last position locks, then retract.
2. If chicBuds aren't retracting smoothly, cord may be twisted. Pull both ends until locks into last position, straighten cords, then retract.
3. If one side of the cord is unevenly retracting, pull both ends until locks into last position, slide retractor piece along cords gently until cords are even, then retract.
With their customizability and hip designs, it's no wonder chicBuds are the best earbuds headphones out there.
###