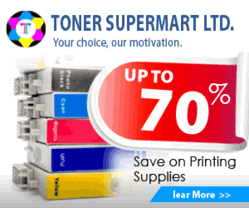 High Quality
Discounted Price
Good Customer Service

Toronto, Ontario (PRWEB) January 10, 2013
Toner Supermart Ltd. announced today the addition of a new product to their replacement HP LaserJet cartridge line: The CF280X Black Laser Toner Cartridge. Officials at the Canadian replacement cartridge and printing Supply Company believe when customers shop for a black toner cartridge for HP printers, they want professional looking business documents with brisk, black text. The new cartridge is a high capacity cartridge that will save money for customers with heavy printing demands. Toner Supermarket Ltd. designed the replacement HP LaserJet Cartridge for optimal output.
This is news because customers buying replacement laser cartridges in the past have been able to get them cheap but complained that they produce less than stellar results and, in the end, are expensive. The CF280X produces 6900 pages according to sources. Customers might not realize that the replacement HP laser cartridge provides crisp detail and unfailing gray-scale, but the new Toner Cartridge for HP printers will change that picture producing graphs and charts that look convincing, according to representatives.
Toner Supermart Ltd. customers in the future will experience the low costs of the CF280X LaserJet Cartridge while they get reliable, unbroken printing. It spells the end to botched printing jobs that devastate supplies and budgets with printing errors. The CF280X will give customers high quality results on a large array of laser papers.
Toner Supermart Ltd. does not buy ink and laser cartridges from ink refilling factories. Toner Supermarket Ltd. products are manufactured printing cartridges. Company officials said the cartridges work every time with high quality output. Rather than refilling the cartridges after they're finished, customers can buy them newly manufactured from Toner Supermart Ltd. at a much lower price than the OEM asks.
The announcement furthers Toner Supermart Ltd.'s goal of providing quality ink cartridges and toners at the best price in the market. The Company is the number one provider in Canada for office equipment goods and laser printer toner ink cartridges. The toner cartridge for HP printers is only one example of the Company's OEM compatible inkjet and toner cartridge lineup. They also manufacture cartridges for Dell, Apple and Canon printers.
Toner Supermart Ltd. has wide range supplies of compatible and original ink and toner cartridges in the market. They insist they carry all makes and models. Customer service gets great emphasis, they go to great lengths to meet a customer demands and ensure every customer that they're business is important. They stress the importance of long-term relationships.