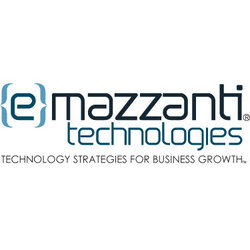 Hoboken, NJ (PRWEB) August 11, 2009
eMazzanti Technologies, a Hoboken-based computer networking firm, announces today its selection by Hewlett-Packard (HP) as the NYC Metropolitan Area HP SMB Partner of the Year. Awarded as a recognition of excellence, eMazzanti was picked out of a field of the finest candidates. HP originally chose one hundred out of thousands of Partners to focus their business development efforts. The computing giant then further narrowed the field down to the six best partners. After further deliberation, eMazzanti was then declared the NYC Metro Area's HP SMB Reseller Partner of the Year. To be selected out of so many in the most competitive market for HP is truly an honor.
eMazzanti trusts HP as their primary hardware supplier. In return for this focus, HP provides eMazzanti with the type of first class service and support that eMazzanti's customers demand. This combination makes for industry leading solutions, cementing eMazzanti's position as the dominant networking force in the New York metro area. With HP hardware, eMazzanti is able to create solutions that connect clients to customers, reduces downtime, and boosts productivity. This success is highlighted by HP, further exposing eMazzanti Technologies to the greater community through the Partner of the Year award.
As Chris Gilmore, Territory Field Sales Manager at Hewlett-Packard, proclaims, "eMazzanti continually sets the example among commercial resellers regarding HP solutions and implementation. The stellar feedback we receive from eMazzanti's customers reinforces our faith in them and their staff to provide accurate and cost effective solutions. eMazzanti exemplifies the definition of a Value Added Reseller."
When asked what the award means to the company, Jennifer Mazzanti, President of eMazzanti Technologies, responded, "Everything we do is focused on serving our customers better. That means we need to solidify our relationships with the vendors our customers rely upon. To be recognized by HP is an honor and affirmation of what goes on behind the scenes to serve customers' needs. The award is another milestone on our road to become the ultimate networking resource in the northeast. With partners such as HP, we continue to find better ways to exceed our customer's expectations with cutting edge technology coupled with unparalleled service and support."
This is the first time that eMazzanti has won the NYC Metro Area's HP SMB Reseller Partner of the Year award. This HP recognition follows an already impressive list of industry acknowledgements of eMazzanti and its customers' success. Previous recognitions from companies such as Microsoft and WatchGuard continually emphasize eMazzanti's position as a company that adds value to products through its service and innovations. eMazzanti Technologies is a firm that looks towards the future; never satisfied, eMazzanti eagerly awaits the next year confident that both its customers and partners will continue to see industry leading results.
ABOUT EMAZZANTI TECHNOLOGIES
eMazzanti Technologies works with businesses to provide strategies for growth through the use of intelligent technology tools. From business process analysis to network design, security planning to preventative maintenance, the firm's services all aim to reduce costs, mitigate risk and drive revenue for our clients. eMazzanti also offers an extensive portfolio of network products from the leading technology manufacturers. The best advocates for eMazzanti Technologies are our clients. The firm services businesses throughout the New York Metropolitan area and in 3 countries worldwide ranging from home office environments to multinational corporations with mission-critical needs. These organizations rely on eMazzanti as their technology management partner. As our clients grow and their needs change, our flexible, scalable model adapts to meet the aspirations of their businesses. We form long-term relationships with clients that value stability and reliability in their IT partners. An innovative and comprehensive approach to technology services has earned eMazzanti the trust of a rapidly growing client base and recognition by many of the industry's foremost publications. For more information, please visit emazzanti.net.
ABOUT HP
HP, the world's largest technology company, simplifies the technology experience for consumers and businesses with a portfolio that spans printing, personal computing, software, services and IT infrastructure. More information about HP (NYSE: HPQ) is available at http://www.hp.com.
###