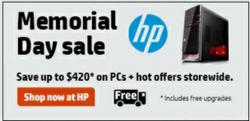 Smart online shoppers can take advantage of HP's Memorial Day Sale and save up to $420 off select PCs.
(PRWEB) May 26, 2013
Hewlett-Packard is celebrating Memorial Day by offering storewide deals on many of HP's popular laptop and desktop PCs. Shoppers can save up to $420 off select items, and the sale runs from May 23rd to June 1st.
The major holiday coupons or deals have just been listed on Bizwaremagic.com, which regularly features the latest online laptop/computer coupons as part of its online laptop buyer's guide. There is even a special Hewlett-Packard Notebook Coupons page where visitors and subscribers can find the attractive discounts.
The HP Memorial Day sale features the following offers: Save $150 instantly on the HP ENVY dv6t-7300 or the HP ENVY dv7t-7300 Quad laptop. Also, one can save $150 instantly when purchasing a customized ENVY 4t-1200 Ultrabook or ENVY 6t-1200 at the HP Home & Home Office Store. Desktop PC offers include: Get $200 instantly off on the HP ENVY h8-1540t and get $250 instantly off on the Pavilion HPE h8-1360t.
In addition, shoppers can save $10 when they spend $50 on select Hewlett-Packard products and save $20 off their online order of $100 or greater. Plus, shoppers can get an additional $100 instantly off with the purchase of select customized HP Laptop or Desktop PCs priced at $999 or greater.
There is also free shipping on all orders. To receive these deals, customers just have to use the special discount links and/or supply the coupon code at checkout. Please see the official Hewlett-Packard site for all terms and conditions.
No doubt, many savvy online shoppers, will take some time this Memorial Day Holiday to benefit from HP's timely sale. Now is probably the right time to purchase that new laptop or desktop PC.
The special Hewlett-Packard Notebook Coupons Page can be found here: http://www.bizwaremagic.com/HP_Notebook_Coupons.htm or download our comprehensive free laptop buying guide here: http://www.laptopcomputerguide.org All products/companies mentioned above are registered trademarks of their respective owners and companies.