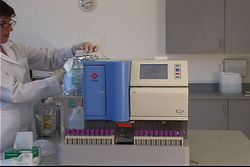 South San Francisco, CA (PRWEB) June 9, 2009
HPLC Testing training video shows that switching from HbA1c to Beta-thalassemia testing mode is an intuitive process on the Tosoh G7 HPLC Analyzer. Tosoh has released an instructional web video that explains the process as well as some of the features and benefits of the G7 HPLC Analyzer.
The Tosoh G7 Automated HPLC Analyzer facilitates both hemoglobin A1c and Beta-thalassemia testing to provide laboratories with the full patient profile. The Beta-thalassemia program quantifies hemoglobins F and A2, which are used in screening for Beta-thalassemia. In addition, the Beta-thalassemia testing program is used for presumptive identification of hemoglobins S, C and D and for screening for other hemoglobinopathies.
HPLC is the preferred methodology for hemoglobinopathy screening. Since the G7 can be used for both hemoglobin A1c and Beta-thalassemia testing, it is essentially 2 instruments in 1.
NGSP certified, the G7 provides time and labor-savings with primary tube sampling, automated cap piercing and positive sample identification. Most importantly, with less than 2% CV's, the G7 offers an extremely high level of both precision and accuracy.
Switching between the hemoglobin A1c and Beta-thalassemia testing programs is very easy, simple and fast. Just remove the hemoglobin A1c reagents, replace them with the Beta-thalassemia reagents, and the G7 HPLC Analyzer will do the rest. Once the buffers and column have been changed, the system is automatically primed and is ready to perform analysis within minutes.
At AACC 2009 Annual Meeting in Chicago, IL, July 21-23, Tosoh Bioscience (Booth #3140) will feature advancements in immunoassay and HPLC testing. Events from Tosoh Bioscience include free educational seminars by David Plaut on the booth stage.
Tosoh Bioscience is a world leader in the development of diagnostic products for HPLC and immunoassay testing. For more information, contact Tosoh Bioscience at (800) 248-6764 or visit Tosoh Bioscience website.
# # #