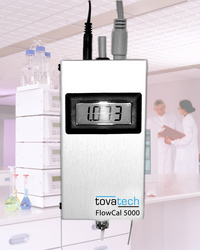 South Orange, NJ (PRWEB) September 17, 2008
Tovatech LLC announces the newly designed FlowCal 5000 Liquid Flow Meter, which simplifies the calibration of HPLC flow rates in pharmaceutical laboratories. This flow meter is accurate, durable, and certified. It offers high performance in a small package. It is the ideal tool for HPLC calibration and IQ OQ PQ HPLC validation by metrology chemists.
Flow rate measurement and flow calibration with the FlowCal 5000 is much easier, faster, and more accurate than using a timer while manually collecting fluid for gravimetric or volumetric measurement. The FlowCal 5000 HPLC Flow Meter offers smaller size, increased accuracy at low flow rates, and simpler use compared to other models. With this flow meter, HPLC pump troubleshooting time is reduced, and leaking check valves or piston seals are easily diagnosed. The FlowCal 5000 is designed for industries requiring accuracy to 1.0% of the reading with guaranteed linearity from 0.05 to 25.00 mL/min.
The FlowCal 5000 digital liquid flowmeter is gravimetrically calibrated at 1.0 (+/- 1.0%) mL/min eliminating the need for user calibration. Flow meter calibration at multiple points is available. A UKAS traceable calibration certificate is supplied with every flow meter (the UK equivalent of NIST). All wetted parts are made of PTFE, PEEK, DAI-EL, PERFLUOR, or Pyrex glass, which makes the FlowCal 5000 inert to all common HPLC mobile phases as well as bioinert.
The principle of operation is the repeated and accurate measurement of the transit time of a meniscus between two optical sensors. To enable very low flow rates to be measured rapidly, the measuring volume is only 0.14 mL and all bores have been reduced to a minimum. At a flow rate of 2mL/min the flow meter reading is updated every 15 seconds. Flow rate is independent of liquid type up to a viscosity of 10 centipoise. Unlike liquid flowmeters based on mass flow, the FlowCal 5000 is not suitable for in-line monitoring of flow rates.
The 4-digit flow rate is displayed on the large LCD and the data can be output via the RS232 interface to a printer, terminal or PC; the data is output as the full 6-digit reading.
The FlowCal 5000 is supplied with a carrying case, cleaning kit, rechargeable batteries, and a universal mounting kit. A miniature thermal printer, which prints all readings and error messages, is available.
Call (973) 913 9734 for more information about the FlowCal 5000 Liquid Flow Meter.
In addition to digital liquid flow meters for HPLC, Tovatech supplies a wide variety of instruments for pharmaceutical and other labs. Contact Tovatech if you are looking for an Elma Ultrasonic Cleaner, Norlake Refrigerator or Freezer, or Kern Analytical Balance.
About Tovatech LLC
Tovatech is staffed entirely by scientists who seek to aid other scientists in selecting the right laboratory instruments for their work.
# # #