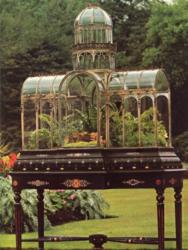 H.Potter Barrel Vault Terrarium's are inspired by a larger 19th century Wardian Case."
Idaho (PRWEB) September 13, 2012
Wardian Cases, named after 19th century botanist and inventor Dr. Ward, have been making a serious come back in last decade as the perfect gift, center piece, and creative eye catchers in homes across the world. Dr. Ward spent much of his life traveling the world to discover and study the many varieties of plants. It was during one of these many month voyages that he realized that by incasing his specimens in constructed glass cases, it was possible for them to survive the long ship rides back to England. This simple discovery soon became a fashion statement in the many drawing rooms throughout Western Europe. Not only did Dr. Ward's discovery revolutionize commercial shipping of plants but it also generated a slew of inspiration for future botanists, garden enthusiasts, and especially for the design team at H.Potter.
H.Potter has recently introduced a wonderful new piece, the Barrel Vault Terrarium, to their terrarium collection that was directly inspired by a larger 19th century Wardian Case. Taking into consideration that most modern homes do not come with a separate drawing room intended to house large Wardian Cases like the one pictured, H.Potter's design team chose to "resize" it by extracting one of the three vaults found in the antique piece. While having "resized" the terrarium down to a single vault, H.Potter's Barrel Vault Terrarium is no less stately or commanding of its stage on a table. Its single piece curved glass, like its predecessor, is stunning in any room. Furthermore, H.Potter pays homage to the enormous three barrel vault found in over the top victorian homes, by retaining the simple but elegant detailing on the top and four sides of the piece. Finally the Barrel Vault Terrarium, while still a "reduction" of the previous version, it is no less still a eye-catching and functional decorative piece. It stands at 22 inches tall, 11.5 inches wide, and 17 inches in length. Keeping in the tradition of H.Potter's standards it is fully functional with a removable top for easy planting and a resin tray that has been specially designed to allow you to plant directly in the tray without the need for extra lining.
To check out this new terrarium and H.Potter's larger collection, visit http://www.hpotter.com. Here you will find a variety of information on a large selection of terrariums and outdoor décor. You will also find links to their extensive collection of articles from garden writers around the world that have been written exclusively for H.Potter's customers. Finally, you will find links to their Facebook, Twitter, Pintrest boards, and YouTube channel where you can follow them to keep up on all the garden trends that are changing everyday.