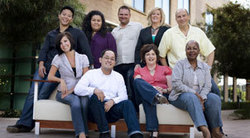 Vic Tanon, founder of PEO services provider Emplicity, has been named to the "40 under 40" list by OC Metro magazine.
Irvine, CA (PRWEB) June 28, 2010
Vic Tanon, founder of PEO services provider Emplicity, has been named to the "40 under 40" list by OC Metro magazine.
The list annually notes the top young "movers and shakers" in Orange County business. OC Metro is a widely read and distributed business magazine in the greater Los Angeles area and Southern California.
Tanon began Emplicity in 1995 after realizing business owners everywhere are struggling under the increasing demands of human resources, paperwork, and regulations. "Labor laws and employee headaches are taking up far too much time for many business owners," Tanon said.
Emplicity's motto is employee management made simple. The firm does everything from hiring and firing, to providing extensive employee benefits, to making sure clients are following laws and regulations.
In an OC Metro cover story, Tanon recalled his own experience with his late father's small business. The strain of running a complex business eventually led to problems for the family.
"We take the hassle out of running your business. Instead of maintaining a full Human Resources department, with all that time and expense, we do the HR work for you at a fraction of the usual cost," Tanon said.
Emplicity's high quality of service has proven to be just what businesses need. The firm has been named to the 5000 List of Fastest Growing Companies for two years running.
Emplicity is a PEO, or Professional Employer Organization, headquartered in Irvine, CA, with additional offices in Los Angeles, Silicon Valley, Sacramento and San Antonio, TX.
"At Emplicity, we answer the phone with 'how can I make your life more simple.' And that's exactly what we do for business owners and managers by providing payroll, human resources, benefits, workers compensation and safety services," Tanon said.
Tanon always knew he wanted to be an entrepreneur and own his own company. In high school he was president of the Future Business Leaders Association.
"Vic has amazing energy and true vision. His insistence on the best service along with dogged determination have created an organization many of our clients can't do without," said Jennifer Meehan of Emplicity.
For further information on Emplicity and how HR outsourcing & PEO services can help your business, please feel free to contact Jennifer Meehan at (714) 668-1388 extension 132.
# # #