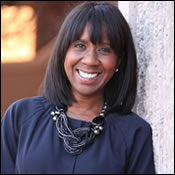 Tempe, AZ (PRWEB) September 16, 2012
The Maricopa Community Colleges' Human Resources (HR) department has been profiled in the Fall 2012 edition of the Higher Education Workplace, a national publication of the College and University Professional Association for Human Resources (CUPA/HR).
The publication's cover article, "A New Direction: How One HR Leader Set the Stage for Change at the Maricopa Community Colleges," is an interview with Nikki Jackson, Vice Chancellor for Human Resources, who has led the effort at Maricopa.
Among the changes introduced by Ms. Jackson was defining HR's role across Maricopa's vast enterprise: "Who we are, what we do, why it matters." In addition, she focused on renewing a sense of leadership stability by filling senior-level positions, many of which had been vacant for years, and by working to meet Maricopa's need for more effective HR services.
One major change was a complete reorganization of the HR division into four centers of excellence – HR Administration, with responsibility for strategic staffing, compensation, benefits and payroll; Employee and Organizational Learning, responsible for leadership development, succession planning, career paths and wellness; the Center for HR Innovation, Strategy and Planning (CHRISP), serving as a consultant to ensure that HR products and services align with the function's role statement and principles; and the Center for HR Solutions, the Colleges' strategic support model, which contains HR consultants, generalists and employee relations employees.
Ms. Jackson told the magazine that future initiatives include revamping and simplifying Maricopa's hiring process; overhauling its classification and compensation structure; establishing an executive coaching network and implementing a new wellness program. She said that employees are gradually accepting the HR changes: "It's taking time, but we're getting there," she said. In related news, Josh Mackey, leader of CHRISP, gave a presentation entitled, "Creating an HR Department that Serves HR" during the annual CUPA/HR Convention, which took place earlier this month in Boston, MA.
###
The Maricopa Community Colleges includes 10 regionally accredited colleges: Chandler-Gilbert, Estrella Mountain, GateWay, Glendale, Mesa, Paradise Valley, Phoenix, Rio Salado, Scottsdale and South Mountain. It also includes the
Maricopa Skill Center, Southwest Skill Center, and several satellite campuses and business/industry, technical and customized training institutes.