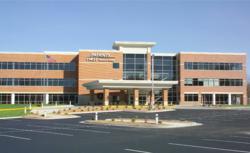 The recent increase in MOB sales activity certainly suggests that healthcare real estate investment and development have picked up steam.
Minneapolis, MN (PRWEB) August 29, 2012
Will medical office building (MOB) sales soon return to the levels of the boom years of 2006-08?
It's too soon to tell. But recent MOB sales activity has clearly taken a step in that direction, according to the most recent edition of Healthcare Real Estate Insights™.
HREI™, the only national publication that reports on and analyzes healthcare real estate news and trends, cited new data from the commercial real estate research firm Real Capital Analytics Inc. indicating that the total dollar volume of MOB sales increased sharply during the second quarter (Q2) of 2012. During Q2, there were 183 properties sold with a total value of more than $1.63 billion, according to RCA.
"That is the highest quarterly sales level recorded since the fourth quarter of 2010 and the fourth highest ever – at least since RCA began tracking MOBs sales in the first quarter of 2001," HREI™ Editor John B. Mugford says. "Even during the MOB sales heyday of 2006-08, only two quarters saw greater sales volume than was recorded last quarter."
And the rebound might continue, Mr. Mugford adds. "We don't make predictions. But I can tell you that we are already tracking several large transactions that have either closed or are likely to close before Sept. 30 that could make Q3 another high-volume quarter for MOB sales," he says.
"One or two quarters are not definitive proof of a sustained market recovery," Mr. Mugford cautions. "But Q2 was the third consecutive quarter during which MOBs sales topped $1 billion, and that hasn't happened since Q4 2007 and the first two quarters of 2008. So the recent increase in MOB sales activity certainly suggests that healthcare real estate investment and development have picked up steam."
Other healthcare real estate trends: ambulatory strategies, repurposing and healthcare at retail sites
In addition to a feature article analyzing MOB sales trends, the new edition of Healthcare Real Estate Insights™ includes news on specific healthcare real estate transactions, new outpatient and inpatient developments, capital markets data, company news, and more. This edition also includes an article offering a glimpse into the real estate strategies of several prominent healthcare systems, including Novant Health of North Carolina, Crozer Keystone Health System of Pennsylvania and Emory University Health of Georgia.
Other recent editions of Healthcare Real Estate Insights™ have included numerous articles on other significant healthcare real estate sector trends, including: adaptive re-use and the repurposing of retail, office and other forms of commercial real estate for healthcare; significant changes for some major healthcare real estate investment trusts (REITs) and investment banks; and provider's new emphasis on ambulatory strategies – shifting more care to outpatient facilities – largely motivated by the weak economy and healthcare reform.
Some of the organizations featured in recent editions have included: Griffin-American Healthcare REIT II, Raymond James | Morgan Keegan, Ventas Inc., Highwoods Properties, MedProperties Holdings, Duke Realty, Hammes Co., Health Care REIT, Zeller Realty, Landmark Healthcare Facilities, Methodist Health System, Inova Health System, Banner Health, MD Anderson, Dignity Health and many more.
About Healthcare Real Estate Insights
Launched in January 2003, Healthcare Real Estate Insights has come to be recognized as the most trusted independent source of news and trend information in the healthcare real estate development, financing and investment sector. This monthly, national, B2B newsletter offers sophisticated players the most comprehensive coverage in the industry available anywhere. For more information or to subscribe, please visit us at http://www.hreinsights.com.