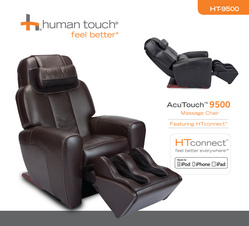 It allows consumers to enjoy a truly customized massage and wellness experience at the touch of their personal wireless device, with ultimate relaxation, convenience and simplicity.
Carson, CA (Vocus) July 30, 2010
Human Touch®, the U.S. market leader of innovative massage chairs, Perfect Chair® Recliners, and other wellness solutions, announced that its new HT-Connect™ massage chair app is now available for free download at Apple iTunes.
HT-Connect™ is a revolutionary app, designed to wirelessly control Human Touch's newest, state-of-the-art massage chair, The AcuTouch™ 9500, with any iPhone, iPad, or iPod touch, to deliver a completely personalized massage and wellness experience. AcuTouch™ 9500 will be available for sale in the U.S. starting this fall at http://www.humantouch.com or leading retailers nationwide. (MSRP: $5,999)
"HT-Connect™ is like no other massage chair solution in the marketplace," said Andrew Corkill, Director of Marketing at Human Touch, LLC. "It allows consumers to enjoy a truly customized massage and wellness experience at the touch of their personal wireless device, with ultimate relaxation, convenience and simplicity."
The first massage chair and wellness solution in history to interface with the popular iPhone, iPod touch, or iPad, HT-Connect™/AcuTouch™ 9500 reinvents personal wellness and the way massage chair users control and customize their wellness routine. Key features of HT-Connect™ include:

Limitless customization options: Users can download HT-Connect™ to customize their AcuTouch™ 9500 massage chair wirelessly, based on their own personal wellness needs. HT-Connect™ remembers individuals' favorite settings for them.
Sixteen+ auto-programmed massages connected to your iPhone, iPad or iPod touch: Use HT-Connect™ to select from a variety of expertly designed massage programs, designed to fit each individual's specific needs. New massage programs are continuously being added to HT-Connect™, and can be easily accessed and used with the AcuTouch™ 9500.
Instant access to wellness tips and expertise from the Human Touch® Wellness Council: Through HT-Connect™, individuals can enjoy regular health and lifestyle tips, as well as expert-designed massage programs from Human Touch® Wellness Council members, comprising professional Chiropractors, doctors of Naturopathy, professional athletes, and more.
Espresso Shots: When in a hurry, AcuTouch™9500 users can pick an Espresso Shot, short targeted massage programs, for quick and effective massage relief in just five minutes. Or if they have more time, they can combine three Espresso Shots to enjoy an automatic, personalized wellness solution.
Apple iPhone, iPod touch, and iPad users are now encouraged to get familiar with all of the exciting features that they will enjoy this fall with AcuTouch™ 9500 by downloading HT-Connect™ today.
For more information about HT-Connect™, please visit http://www.ht-connect.com.
About Human Touch®
In pushing the boundaries of its traditional massage chairs and wellness products through advanced proprietary technology and innovation, Human Touch® is focused on infusing health and wellness into everyday lives through high-quality, design-oriented and award-winning massage chairs, Zero-Gravity Perfect Chair® Recliners and other wellness products and solutions. Human Touch® has been making people feel better™ for more than 30 years by developing state-of-the-art massage and wellness products, as well as by providing valuable consumer education about the substantial health and wellness benefits of regular massage therapy, relaxation and proper posture. Stress relief, increased range of motion, pain relief, improved circulation and increased immunity are just some of the valuable health benefits associated with regular massage therapy. Human Touch® products are available at back care specialty stores, fine furniture stores across the country, through international retailers and distributors in more than 40 countries, as well as online at http://www.humantouch.com.
# # #