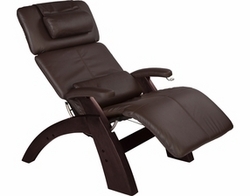 The Human Touch® Wellness Studio creates an enticing, interactive environment whereby the Human Touch® story can be told, strengthening brand awareness and the consumer's decision to buy
Carson, CA (Vocus) July 20, 2010
Human Touch®, the U.S. market leader of innovative massage chairs, Perfect Chair® Recliners, and other wellness solutions, will be launching a new gallery and sales program in early August, called the Human Touch® Wellness Studio, enabling participating retailers to maximize sales opportunities for Human Touch's award-winning Perfect Chair® Recliners. This fully integrated retail gallery program will be introduced during Las Vegas Market, one of the nation's leading furnishing industry events of the year, held Aug. 2-6 at the World Market Center in Las Vegas (Showroom B-0900).
"The Human Touch® Wellness Studio creates an enticing, interactive environment whereby the Human Touch® story can be told, strengthening brand awareness and the consumer's decision to buy," said Andrew Cohen, President of Human Touch, LLC. "Unlike other gallery programs, a Human Touch® Wellness Studio requires little to no inventory to participate and guarantees greater profitability than the industry average."
Human Touch's line of Perfect Chair® Recliners includes a collection of sleek and elegantly designed relaxation chairs, incorporating Zero-Gravity engineering, to relieve soreness, pain and fatigue caused by Earth's constant gravitational pull on the body. Inspired by the zero-gravity chaise position developed by NASA to support astronauts during their ascent into orbit, the Perfect Chair® elevates the legs above the heart, relieving weight from the spine. Consistent with physician-recommended sitting posture, the chair's fixed-form seating position ensures maximum ergonomic posture at all recline angles. Human Touch's Perfect Chairs® are also recommended by Human Touch's Wellness Council members, a group of esteemed wellness experts, including doctors of chiropractic, naturopathy physicians, massage therapists, and professional athletes.
Components of the Human Touch® Wellness Studio program include the complete collection of Human Touch® Perfect Chairs® and accessories, point of sale materials, as well as comprehensive marketing, training, and sales support for participating retailers provided by Human Touch's dedicated sales team.
Billy Curtright, Director of Sales, Furniture and Specialty Sleep, added, "We understand the competitive landscape that today's furniture retailers face and are excited to be able to respond to their needs by offering them a fully integrated and ROI-driven program that will allow them to maximize their sales performance."
About Human Touch®:
In pushing the boundaries of its traditional massage chairs and wellness products through advanced proprietary technology and innovation, Human Touch® is focused on infusing health and wellness into everyday lives through high-quality, design-oriented and award-winning massage chairs, Zero-Gravity Perfect Chair® Recliners and other wellness products and solutions. Human Touch® has been making people feel better™ for more than 30 years by developing state-of-the-art massage and wellness products, as well as by providing valuable consumer education about the substantial health and wellness benefits of regular massage therapy, relaxation and proper posture. Stress relief, increased range of motion, pain relief, improved circulation and increased immunity are just some of the valuable health benefits associated with regular massage therapy. Human Touch® products are available at back care specialty stores, fine furniture stores across the country, through international retailers and distributors in more than 40 countries, as well as online at http://www.humantouch.com.
###