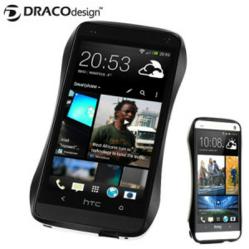 The Draco Design Aluminium Bumper is a premium case for a premium smartphone
Birmingham, West Midlands (PRWEB UK) 24 May 2013
Mobile Fun, the UK's leading internet retailer of mobile phone accessories, have the Draco Design Aluminium Bumper available for pre-order in a choice of three colours: Metro Black, Flare Red and Astro Silver.
Named "a benchmark-busting phone" by PC Pro magazine, the HTC One has a beautiful design which users will want to protect from any bumps or drops.
The Draco Design Aluminium Bumper is a premium case for a premium smartphone. This amazing HTC One accessory is crafted from aircraft grade aluminium which not only looks great but can also take more damage than most commonly used materials.
Featuring a beautiful ergonomic design and a slim profile, the Draco fits nicely in any hand thanks to its curved indent and wide top and bottom. Made specifically for the HTC One, the Draco has cutouts for all of the handset's ports and features such as the 3.5 mm connector, microphone and charging port.
Unlike other metal bumpers which tend to interfere with a phone's signal, the Draco aluminium bumper has been designed with the antenna in mind; its wider top and bottom help minimize interference.
Sleek and slim, the Draco Design Aluminium Bumper for the HTC One complements the smartphone's design and enhances its look while providing protection against drops. It is now available to order from UK online retailer Mobile Fun.
-ENDS-
About Mobile Fun
Birmingham based MobileFun.co.uk is the UK's leading internet retailer for "everything first"; offering a range of mobile phones, mobile phone accessories.
Mobile Fun has offices in the UK, USA, Germany, Spain and France and delivers products to over 50 countries worldwide.
Mobile Fun were recently named the 'Best Accessory Retailer 2012' at the What Mobile Awards and won the title of 'Online Retailer of the Year' at the Mobile News Awards 2012 for the second year running.