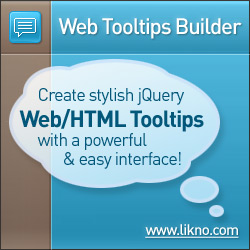 intuitive desktop interface that enriches your websites with powerful and stylish HTML/CSS Tooltips
Maroussi, Athens (PRWEB) September 10, 2011
Likno Software has released the latest version of its product, Likno Web/HTML Tooltips Builder - version 2.0 build 206. The software is a desktop application that works as a user-friendly interface (GUI) to the popular jQuery open source library for creating stylish, feature-rich html tooltips for web pages, with minimal effort and coding.
All the jQuery tooltips that the software produces are fully cross-browser (work seamlessly in Firefox, Internet Explorer, Google Chrome, Opera, Mozilla, Konqueror, Safari & others).
Major Features:

Rich and powerful Interface.
Creates cross-browser jQuery tooltips that display micro-information when visitors mouse over (or click) on page elements of their choice (even on page load).
Ready-made examples can be quickly applied to projects (pre-installed in software).
Universal: For any authoring tool (Dreamweaver, Expression Web, etc.) or CMS platform (Joomla, Drupal, Wordpress, etc.).
Shows text, HTML, images, videos (YouTube, etc.), animations, Flash, or whole pages (AJAX, URL) as content in the tooltips.
Any type of jQuery tooltip can be created, such as: html tooltip, ajax tooltip, balloon tooltip, javascript tooltip, css tooltip, dhtml tooltip, bubble tooltip, html image tooltip, etc.
The style of the tooltips can be fully customized through CSS ("css tooltips").
The browser's default tooltip can be replaced on all TITLE/ALT tags automatically to show the user's preferred tooltip design instead.
Images can be used to create interesting tooltips like: balloon tooltips, html image tooltips, etc.
The HTML tooltips can be positioned to any corner, side or distance relative to their page elements (122 combinations can be used).
Dynamic content can be added to the tooltips through AJAX techniques ("ajax tooltips").
The tooltips can open or close through many triggering options (ID, CLASS, NAME, TAG NAME, via AllWebMenus) and with a variety of open/close effects.
A tooltip can be set to open automatically on page load, instead of hovering/clicking on a page element.
Custom tooltips can be added on website menus, replacing the browser's default tooltip ("AllWebMenus Add-in").
With Likno Web/HTML Tooltips Builder web professionals save a significant amount of time and effort required to fully understand JavaScript and jQuery code for creating feature-rich HTML tooltips for their websites.
Likno Web/HTML Tooltips Builder costs $49.95 (3-domain license). Windows ME/2000/NT/XP/Vista/7 supported.
About Likno Software
Likno Software is a leading software development company that over the past years has managed to establish itself in the international community of web developers as a leader in JavaScript/DHTML technology through its advanced software & services.
# # #