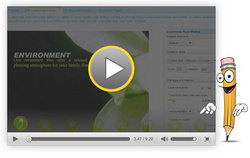 I absolutely love your service. It has allowed me to make changes to my site without having to go through the person that designed the site. He always seemed to overcharge me for minor edits & rarely did them in a timely manner. David
Baltimore, MD (PRWEB) February 15, 2011
Many website owners are intimidated by their websites – perhaps they are not familiar with HTML, or think that maintaining their site is too complicated and costly. Easy WebContent solves all of these problems with one user-friendly solution.
The Easy WebContent system allows users to create, update and maintain websites without paying exorbitant costs to web designers or installation of a complex content management system. Easy WebContent allows updating the text and images of HTML web pages as well as add powerful media-rich features such as photo galleries, music players, animated Flash clips and much more. Easy WebContent is a one of a kind tool that can take website management to the next level.
Easy WebContent was created as a straightforward solution for updating, maintaining and editing websites on the fly. Easy WebContent is a web-based program that does not require any software to be physically installed on a computer or the website. Therefore, editing a website can be conveniently accomplished at anytime from any Internet connected PC or Mac anywhere in the world.
Easy WebContent is more than a HTML editor. The new Easy WebContent system allows its users to simply accomplish the following tasks:

Update and maintain website's textual content
Add media-rich features such as music players, Flash clips, photo galleries, calendars, and more...
Add and remove tables (commonly used for content placement in pages)
Edit, add or remove images (including the ability to flip, crop, resize and add effects/filters and more)
Add contact forms to a website
Insert sitemaps to web pages to aid with search engine indexing and optimization
Easy WebContent (EWC) works with the latest versions of all standard web browsers and has the ability to edit web pages (such as HTML, XHTML, SHTML, SHTM based pages and CSS) regardless of where a website is hosted. Easy WebContent was created with the novice Internet user in mind – no web design or HTML knowledge is necessary in order to operate the editor. In fact, anyone who is comfortable using word processing software such as Microsoft Word should have no problem utilizing the Easy WebContent system.
In order to setup a website for editing, simply provide the EWC system with the site's FTP (File Transfer Protocol) username and password available by virtually all web hosting companies. FTP information can easily be obtained from the web host. Once account is setup, simply view, edit and publish web site files with EWC's File Manager and the "Dashboard" interface.
Most website owners do not want to risk page corruption during editing. When making adjustments to a website, Easy WebContent will create a restore point (labeled with time and date) before changes are made so that user has the option to revert back to a previously saved version. Up to ten restore points are available per page.
Easy WebContent provides control over website content. There will be no more relying on others to make simple changes to a website, saving valuable time and money and well worth the $9.50 per month fee for unlimited use. Sign-up for a Free Trial of HTML editor today.
Additionally, take advantage of the Easy WebContent (Complete) plan which includes Pro version of the editor, full scale premium web hosting (optional and included) as well as the popular suite of add-ons including the EWC Flash maker, mp3 player, photo gallery creator and much more for a highly affordable fee.
About Easy WebContent:
Easy WebContent is based out of Baltimore, MD and is a division of HindSite Interactive, a leading website development firm specializing in customized web development, content management, e-commerce and interactive design. HindSite offers a broad range of services including web site design, site usability, content management systems and web application development. For more information and details regarding the many features of Easy WebContent, visit the website at http://www.easywebcontent.com.
# # #