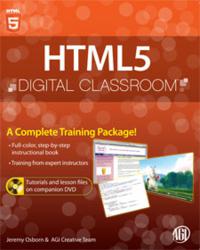 A fast and easy way to learn HTML5
Boston, MA (PRWEB) January 25, 2012
HTML5 book now available
The HTML5 Digital Classroom book covers essential skills for creating websites, web applications, and web content using HTML5 and CSS 3. This comprehensive HTML5 book clearly explains new capabilities in modern web browsers, and how to use HTML5 and CSS to create efficient, standards-based websites and web applications. The HTML5 Digital Classroom book covers the essential capabilities of HTML5 and shows readers how to code cutting-edge web pages and web applications using new HTML5 tags. The book also covers how to create HTML5 web forms, and how to add multimedia content without relying on browser plug-ins. The HTML5 Digital Classroom also shows readers how to use the Canvas element to create graphics, and how to combine powerful styling and animation technologies of CSS3.
The HTML5 Digital Classroom includes more than 400 pages of easy-to-understand explanations and step-by-step instructions. The book is enhanced by a DVD that includes code samples, lesson files, and video tutorials, making it a fast and easy way to learn HTML5. The video tutorials relate directly to the concepts covered in the HTML5 Digital Classroom, and are delivered by the books expert authors. The DVD content is available for download for readers of the eBook.
The HTML5 Digital Classroom makes an excellent HTML5 textbook for schools teaching HTML5. An instructor's guide is available from Wiley Publishing for educators who adopt this HTML5 book as their HTML5 class textbook. To learn more about this HTML5 book visit the HTML5 Digital Classroom website.
HTML5 classes enrolling now
The authors of the HTML5 Digital Classroom are now teaching HTML5 classes, including live online HTML5 classes and in-person HTML5 classes at AGI's classroom locations. The authors also are available for workshops and private HTML5 classes for groups, schools, and corporations. These HTML5 classes help web designers and web developers gain new HTML5 skills to take advantage of new HTML5 tags and CSS3 capabilities. To learn more about these HTML5 classes, visit the AGI Training website.
About Digital Classroom
The Digital Classroom series provides expert instruction that fits into your schedule. Expert instructors guide readers through easy-to-understand lessons, with lesson files and video tutorials from the authors included on DVD or available on-line for eBook readers. Digital Classroom books are also available as textbooks, with available instructor guides. Digital Classroom books are available in print or electronic format wherever books are sold and are published by John Wiley & Sons. More information at the Digital Classroom Books website.
About AGI Training
AGI Training provides professional development classes on web technologies and creative software design tools. Over 15 years the expert instructors at AGI Training have delivered web design training, Adobe training, and creative software training. The expert instructors from AGI Training are the authors behind the Digital Classroom book series. More information at agitraining.com.
###