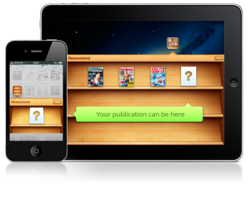 It's remarkable what we have been able to achieve with HTML5 technology. Today, digital publishers can simultaneously create apps compatible with apps stores such as Apple's Newsstand, and tablet devices, including the Android
New York, NY (PRWEB) April 19, 2012
TapEdition recently announced the launch of their HTML5 magazine app building capabilities, located at http://www.TapEdition.com. TapEdition's full integrated design platform enables users to develop fully functioning HTML5 based magazine applications that are compatible with all Smart Phone and tablet brands.
To succeed in the digital publishing industry, HTML5 technology must be embraced! Why? HTML5 applications are compatible across all smart phone and tablet brands, including the ever-popular devices, Android and iPad.
TapEdition.com offers the first true magazine HTML5 app builder in the marketplace, offering magazines and other digital publishers the opportunity to design and launch custom applications in mere minutes.
"It's remarkable what we have been able to achieve with HTML5 technology. Today, digital publishers can simultaneously create apps compatible with app stores such as Apple's Newsstand, and tablet devices, including the Android." said Ari Silverman, a product manager for TapEdition.
In addition to smart phone and tablet compatibility, HTML5 magazine apps can be embedded into a publisher's website. Once this process is complete, which takes mere seconds, website visitors will be presented with the HTML5 version of the publication. HTML5 magazine applications look and feel just like a native iOS app!!
Creating a HTML5 magazine app is as easy as 1, 2, 3; Upload content, define interactivity features and preview!
Publishers utilizing TapEdition's platform to build HTML5 magazine applications can integrate any of the following features into their design:

Interactive Features-With TapEdition, app publishers can incorporate an unlimited amount of Hotspots!! Publishers can make their applications come to life through embedding interactive features into their manuscripts. Available options include video feeds, photo galleries, audio streams, RSS feeds, external links, info pop-up overlays, maps, internal page links, and tap-to-call/tap-to-email features.
Features for the Readers- Publishers can't forget about the reader's experience! Some of TapEdition's features available for readers include page flipping, page zoom, the ability to preview publications prior to purchasing, in-app purchase capability, and auto-renewable subscriptions.
The cost to design an HTML5 magazine application on the TapEdition platform is absolutely, 100% FREE!
To begin building your FREE HTML5 magazine app, visit http://www.TapEdition.com.