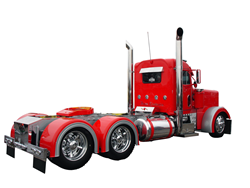 This product adds a new dimension to wheel design and personalization for truck builders and drivers. It's been too many years since our industry has seen something completely new and innovative in www.realwheels.com [wheel accessories]]
(PRWEB) January 19, 2009
Gurnee, IL (Vocus) January 19, 2009 -- Custom Mag wheels on a commercial truck? This idea would normally be too outrageously cost-prohibitive to even consider, but the design team at RealWheels has made it possible with their new patented RealMag™ Hub Cover. Manufactured from durable, high impact, chrome plated ABS, the RealMag offers over-the-lug installation on 22.5" and 24.5" aluminum or steel wheels. The covers are also available in a black finish.
"This product adds a new dimension to wheel design and personalization for truck builders and drivers. It's been too many years since our industry has seen something completely new and innovative in wheel accessories ," says RealWheels Founder, Mr. Jan Polka. "Whether you're talking about big rigs, tow trucks, motorcoaches or fire trucks, most operators take great pride in the appearance of their vehicles coming down the road, and are looking for exactly this type of affordable accessory."
RealMags are available for front and rear wheels with 33mm lug nuts. Both models offer pop-in centers for easy oil cap viewing. Since their quick and easy installation involves five thread-on locking lug nut covers, there is no need to remove the lug nuts. RealWheels offers an extension kit for 24.5" rear wheels, and more wheel sizes are in the works.
For over twenty-five years, RealWheels Corporation, located in the Chicago suburb of Gurnee, IL has been the exclusive American-made manufacturer of stainless steel wheel covers, wheel simulators, high hats, baby moon covers, and a complete line of products to visually enhance trucks of all styles and shapes. RealWheels currently works with many OEMs, distributors and dealers and will be expanding distribution dramatically to meet the demand for the RealMag™ Hub Cover and additional new products.
For more information and a 24 page, full-color catalog, please visit http://www.realwheels.com.
Media Contact:
Jhan R. Dolphin
Vice President Mktg.
RealWheels Corporation (RWC)
(800) 982-1180
(847) 910-2248 cell
# # #