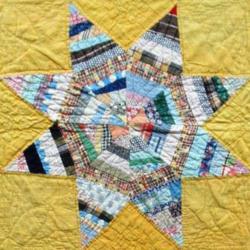 Linda Hubalek will give a quilt program to MaryJane's "Farmgirls on the Loose" Glamping Group at Lindsborg's Millfest.
Lindsborg, Kansas (PRWEB) April 30, 2013
Author Linda Hubalek kicks off Millfest weekend with a program to a MaryJane's "Farmgirls on the Loose" glamping group about her antique quilts and historical fiction books. The program, also open to the public, is at 3:30 pm on Friday, May 3rd, in the Swedish Pavilion in Heritage Square across from the Old Mill. This year's Millfest Quilt Show, displayed at the McPherson County Old Mill Museum in Lindsborg, Kansas, features quilts made by Hubalek's ancestors made from 1830s through the 1950s.
Hubalek is currently working on a new book, The Kansas Quilter, featuring her great-grandmother Kizzie Pieratt and the many quilts she crafted. This author wrote the Butter in the Well and Planting Dreams books series, which are about the Swedish immigrants that homesteaded in central Kansas during the 1860s.
Each spring the McPherson County Old Mill Museum in Lindsborg, Kansas hosts Millfest, a family event honoring the history of the mill and the pioneer heritage of the region. This weekend Midwest members of the Farmgirl Chapters will be "glamping" (glamor + camping) in the Old Mill Park to enjoy Millfest and to explore the Lindsborg area.
On May 4th and 5th the millers' direct operations as visitors (ages 13 & up for the mill tour) tour the 100 year-old mill in action. Area artists demonstrate traditions such as blacksmithing, quilting, wood-carving, rope-making, and basketry. Live music by area musicians fills the air and provides a festive backdrop to the many activities. Food is also available throughout the weekend event.
Millfest is Saturday, May 4th from 9:00 a.m.-5:00 p.m. and Sunday May 5th from 12:00-5:00 p.m. at 120 Mill Street, Lindsborg, Kansas. Admission is just $2 for adults, $1 for ages 6-12, and under 6 are free.
About Linda K. Hubalek:
Author Linda K. Hubalek writes books about the pioneer women who made Kansas their home. Her books are published by Butterfield Books Inc. and they include the Trail of Thread, the Butter in the Well, and the Planting Dreams series.
About Butterfield Books Inc.:
Founded in 1994, Butterfield Books Inc. publishes and promotes books about Kansas and its pioneer history. The company is located in Lindsborg, Kansas, known as "Little Sweden USA."