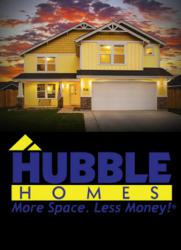 (PRWEB) January 17, 2013
In 2011, Hubble Homes felt great about selling 68 homes. With the sluggish market, many builders struggled to keep their doors open but beginning in March of 2012, home buyers re-surfaced, eager for new homes and new communities. Hubble Homes sold a total of 246 new homes in 2012, a 360% increase in home sales! This astonishing jump in new home sales is a strong statement to the dedication and vision of Don Hubble, founder of Hubble Homes. "It truly is a team effort," Don says of the growth, "and I won't think of it any other way."
The team at Hubble Homes has grown over the past year to accommodate the growth in sales. Hubble Homes added many additions to their staff, from drafting designers to construction managers to sales specialists. Hubble Homes has also increased its visibility in the market place with a fresh, new website and newly acquired communities, including Cirrus Pointe. Hubble Homes will continue to be the "More Space, Less Money" leader.
About Hubble Homes
Customer Satisfaction – A truly enjoyable home-building experience is Hubble Homes' mantra. While the idea of building a new home can seem overwhelming, you will find Hubble Homes has the building experience to manage and exceed your expectations, while keeping within a buyer's price point. By clearly communicating with customers on a consistent basis, Hubble Homes ensures that buyers are part of the construction process during every step of the way.
More Space, Less Money – Hubble Homes has perfected a highly-efficient building process that is literally changing the industry. Proud partnerships with suppliers, trade contractors, and other building professionals helps to synergize the volume and scheduling requirements to deliver more space for less money, while upholding the promise of quality.
More Choices – Although Hubble Homes has unbeatable standard features in every home, they also offer a plethora of choices, most of which will be showcased in their new, upcoming showroom. The showroom manager guides home buyers through a personal design experience with their new home investment, showing all the options available to build their semi-custom home. After all, it is your dream home and Hubble Homes is here to make it a reality.