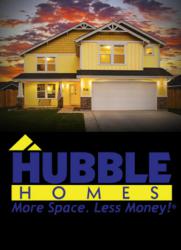 Hubble Homes offers over 36 floor plans in over 15 communities across Treasure Valley
Boise, ID (PRWEB) December 02, 2012
As the national and local economies improve, home sales have been getting stronger in Boise, Idaho. First time home buyers are also looking at buying a home and many are falling in love with their Hubble Home. Since the beginning of 2012 Hubble Homes has experienced 500% increase in sales.
Hubble Homes offers over 36 floor plans in over 15 communities across Treasure Valley. With the promise of "More Space, Less Money" buyers are not only finding what they want, but are given custom options at affordable prices untouched by most other builders in the valley. "Today's home buyers need options," says Don Hubble, owner of Hubble Homes. "They may want upgrades, but they may find that price is more of a priority and choose to buy a home now."
Hubble Homes has increased staff and the number of subcontractors to meet demand and opportunities in the future. They are looking at new communities and additional floor plans to meet customers' needs. Don Hubble expects 2013 to continue with strong sales numbers.
About Hubble Homes
Hubble Homes has been building homes in Idaho since 1997 and has built over five-thousand homes, making them one of the largest builders in Idaho. For more information about the builder or to review floor plans and new communities, visit http://www.HubbleHomes.com.