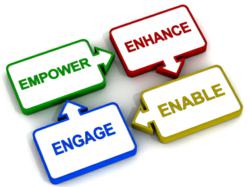 Assessing the best fit between worker and organization will result increased employee engagement. You will learn how your company can enhance workforce productivity to meet world class standards.
San Francisco, CA (PRWEB) November 09, 2012
Renowned business coach Dr. Hubert Rampersad, President of the HR Performance Branding Institute, a company dedicated to aligning human capital for business success, will present a free webinar series discussing his training and management system that creates an optimal fit between personal and corporate objectives. Dr. Rampersad's Authentic Alignment Program energizes employees and stimulates engagement, commitment, and passion within the organization. They work smarter and focus on activities that create value for their organizations. He will also introduce his Performance Alignment Software, which provides a simple way to gain control over performance indicators from individual business units to the overall corporate management strategy.
A recent Gallup study shows that 70% of American workers are unhappy in their jobs and there are 22 million disengaged employees in America. Unhappy workers cost the American business economy up to $350 billion annually in lost labor productivity, and earnings per share increase 2.6 times more if employees are engaged in their work. Nearly one-third of US workers' values are in conflict and mismatched with their company's values. "Instead of matching the right employee to the right position for long-term success, HR departments are often forced to put the emphasis on filling the position as quickly. As a result, American businesses are losing money as fast as they are losing employees", stated Rampersad.
Dr. Rampersad will introduce a sustainable and practical solution for this challenge based on his bestselling books "Total Performance Scorecard: Redefining Management to Achieve Performance with Integrity ","Personal Balanced Scorecard; The Way to Individual Happiness, Personal Integrity and Organizational Effectiveness ",TPS-Lean Six Sigma; Linking Human Capital to Lean Six Sigma - A New Blueprint for Creating High Performance Companies", "Authentic Personal Branding: A new blueprint for building and aligning your brand ", and "Be The CEO of Your Life: The Ultimate Authentic Personal Branding Formula for Standing Out from the Crowd", which have been published in more than15 languages and endorsed by professors at Yale School of Management, Harvard Business School, and many other business thought leaders including Marshall Goldsmith and Dave Ulrich. He was a guest lecturer at MIT Sloan and featured in Fortune Magazine and Businessweek.
Dr. Hubert Rampersad Profile Video
Marshall Goldsmith, recently recognized as the #1 leadership thinker in the world at the bi-annual Thinkers50 ceremony sponsored by the Harvard Business Review, wrote: "...Hubert Rampersad is one of the great thought leaders that is both helping organizations increase effectiveness and helping people have better lives. He is helping make the world a better place, and is one of the few consultants who look at the entire picture - not just a small part."
Rampersad added, "Assessing the best fit between worker and organization will result increased employee engagement. I will show you how to increase continuous learning and improve individual performance. You will learn how your company can enhance workforce productivity to meet world class standards."
He will also discuss his Performance Alignment Software that manages the entire managerial cycle based on strategic planning, initiative implementation, defect correction, controlling achieved progress, critical analysis plan revisions, measurement and detection.
"This webinar series introduces HR Performance Branding's unique multi-dimensional approach to organizational development training, executive coaching, and performance management software. Our mission is to achieve alignment between employee and corporate values, thereby stimulating engagement and a dedication to realizing organizational objectives." said Dr. Ryan E. Yip, VP of Sales and Marketing.
© 2012 HR Performance Branding Institute
About
The HR Performance Branding Institute provides excellence in integrated personal and business performance training to executives and organizations. Our mission is to align human capital for business success by using our innovative employee engagement and management programs. We assist modeling best practices for workforce productivity to achieve its full potential. We offer opportunities to create a learning organization where the human spirit thrives and companies benefit from increased profitability and customer satisfaction.