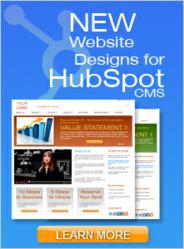 The more a website is able to connect with buyers and convert them, the better it supports your inbound marketing efforts
Atlanta, GA (PRWEB) March 31, 2012
Inbound Marketing, a system to attract and capture buyers online, is growing rapidly. Businesses today are implementing a results-oriented approach to marketing and are discovering how to generate the greatest amount of qualified leads with the least amount of effort. This system is affecting all aspects of marketing; business owners and marketers can see the direct path between effort and results.
The approach to web design is no exception. Web design for inbound marketing is rated on its ability to support lead capture objectives. "The more a website is able to connect with buyers and convert them, the better it supports your inbound marketing efforts," said Eduardo Esparza, President of Market 8.
HubSpot, an all-in-one inbound marketing platform, is an indispensable tool for companies that are incorporating inbound marketing as part of their overall marketing strategy. Market 8, an Atlanta-based Inbound Marketing Agency and HubSpot Certified Partner, has created a series of website templates for its HubSpot web design services. This template-based approach to web design reduces implementation times to a minimum while providing companies with an attractive, functional and professional website for a very low cost in a matter of days.
"We are seeing a significant downtrend in demand for custom web design with companies of all sizes, and that is probably a very good thing," said Esparza. "Marketers joining the inbound marketing movement are interested in presenting their companies online in the best way possible, and looking to merge a good presentation with their lead generation objectives."
The HubSpot website templates offered by Market 8 give companies a framework to present their content. Through a combination of fonts, colors, custom graphics and call-to-action buttons, these templates are the tools for companies to easily configure their own pages in their HubSpot website, eliminating the need for custom coding.
"Good web design has been typically associated with great looking sites. However, today your potential buyers are doing research online and are looking for answers to their challenges. If your website is not user-friendly and difficult to navigate, you can consider that lead lost," Esparza said. "Our HubSpot web design services take all of this into consideration."
Learn more about Market 8's HubSpot web design services.
About Market 8
Market 8 is an inbound marketing and branding agency that helps clients increase revenue and return on marketing investments by focusing on strategies that are fundamental, effective and measurable. A fully integrated agency, Market 8 specializes in marketing strategy, website development, interactive design, content creation, video marketing, and marketing analytics including specific prospect and lead tracking.
Read Market 8's Inbound Marketing and Branding Blog
For more information about Market 8 visit http://www.market8.net/