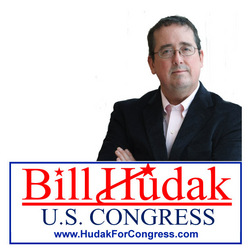 By consistently voting for higher taxes on businesses and individuals, Congressman Tierney has made it clear that partisan politics are more important than job creation and growth
Danvers, MA (Vocus) September 30, 2010
Bill Hudak, http://www.hudakforcongress.com, candidate for U.S. Congress in the Massachusetts 6th Congressional District, today characterized Congressman John Tierney's vote to adjourn the House of Representatives until after the November election, without voting on extending the 2001 and 2003 tax cuts as an, "act of partisan cowardice that will postpone economic recovery for the citizens of the 6th District." House Democrats on Wednesday barely won a 210-209 vote to adjourn until after the midterm elections without voting on the measure.
"Once again, Congressman John Tierney has placed his fealty to Nancy Pelosi and her Liberal agenda above the best interests of the citizens of the 6th District," said Bill Hudak. "This act of pure partisanship and anti-business animus will postpone the economic recovery throughout the District by continuing the uncertainty for small business owners about their potential tax liability next year. This uncertainty is killing the hiring of new employees and slowing crucial investments by small businesses that are vital to rejuvenating our economy."
"By consistently voting for higher taxes on businesses and individuals, Congressman Tierney has made it clear that partisan politics are more important than job creation and growth," continued Hudak. "And by being the deciding vote to adjourn, the Congressman has demonstrated that leaving his post to campaign and preserve his own job is more important than creating new ones for his constituents in the 6th District."
"We cannot afford to sacrifice jobs and growth simply to satisfy class-envy politics and outdated Liberal ideas of economic redistribution," concluded Hudak. "Congressman Tierney must vote to keep these economically vital tax cuts in force even if it means doing so in the upcoming "lame duck" session, but even that will be small consolation given that economic growth will remain stagnant for two more months thanks to his vote to adjourn."
According to a Heritage Foundation study based on the IHS Global Insight U.S. macroeconomic model, and data from the U.S. Census Bureau and the U.S. Department of Labor, Bureau of Labor Statistics, President Obama's plan to let the 2001 and 2003 tax cuts expire would result in steep tax hikes beginning in January 2011 for small businesses and individuals. The tax hikes would significantly affect the economy in Massachusetts in the decade from 2011 to 2020. According to the study, in Massachusetts's 6th Congressional District alone, the tax increases would:

Cause job losses of 1,616, on average, each year;
Result in $7,430 in lost total disposable personal income per household; and
Increase total district-wide individual income taxes by $1.8 billion.
ABOUT THE HERITAGE FOUNDATION
Founded in 1973, The Heritage Foundation is a research and educational institution – a think tank – whose mission is to formulate and promote conservative public policies based on the principles of free enterprise, limited government, individual freedom, traditional American values, and a strong national defense.
ABOUT BILL HUDAK
Bill Hudak, http://www.hudakforcongress.com, candidate for U.S. Congress in the Massachusetts 6th Congressional District, is a practicing attorney with more than 27 years of experience. Licensed in Massachusetts, New York, North Carolina and Florida, as well as in multiple Federal District Courts and the United States Supreme Court, Bill's consumer advocacy efforts have earned him a reputation as a lawyer practicing with "truth, honor and integrity." A 25-year resident of the 6th Congressional District in Massachusetts, Bill is running for office to restore balance to a Congress that is out of step with the needs of its citizens. Click here to read more about Bill.
For more information about Bill and his campaign to bring common sense to the U.S. Congress, visit http://www.hudakforcongress.com and join us on YouTube, Facebook and Twitter.
###