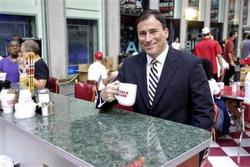 This program allows existing and new Huddle House franchisees the opportunity to develop with a lower cost of entry.
Atlanta, GA (PRWEB) February 3, 2010
In this economy, franchise brands have been forced to think "outside-the-box" for franchise development strategies. Under the leadership of newly-hired Chief Development Officer, Thomas Flaherty, Huddle House has lowered its franchise fee for new development signed in 2010 to just $5k, with no royalties due for restaurants opening under the program for the first five months of operation.
"This program allows existing and new Huddle House franchisees the opportunity to develop with a lower cost of entry. Also, the savings in paying no royalty for the first five months provides fuel for new restaurants to advertise more heavily during the initial stages," Flaherty said. "This model also encourages multi-unit development."
"Many good investments are made during a down economy," said Huddle House CEO, Phil Greifeld. "And our incentive program provides a great investment benefit to both existing and new franchisees."
Flaherty noted that Huddle House is looking to attract experienced operators for new development in target markets.
When Flaherty was recruited by Huddle House, he was charged with creating momentum for the brand, to which he is no stranger. His extensive franchising experience includes personally negotiating and signing over 1,400 new Papa John's units in North America, Central America, South America, Europe, Africa and Asia. During his tenure with Papa John's, the company grew from approximately 1,500 units to over 3,400.
"The Huddle House team has done a tremendous job throughout its 45-year history in developing and growing the brand," Flaherty said. "The exciting thing is that there is still a great deal of growth potential… and we have a lot of new and exciting things happening right now!"
About Huddle House
Celebrating its 45th Anniversary, Huddle House, Inc., a full-service family diner chain, has become well-known for serving "Any Meal. Any Time." in communities around the country. Huddle House boasts a colorful and inviting atmosphere, reminding patrons of those friendly neighborhood diners of the past. Typically open 24-hours, its restaurants feature polished chrome trim, checkerboard tile and polished-red, cushioned counter stool seating with diner booths. Huddle House features signature breakfast and sandwich platters, lunchtime salads and USDA Choice steak dinners. The Atlanta-based 400-plus-unit franchise is located in 17 states, primarily in the Southeast, Mid-West and Southwest U.S. Huddle House has taken a progressive approach to customer interaction by launching five Social Media websites. For more information, please call 1-800-418-9555 or visit http://www.huddlehouse.com.
Media Contact:
Nick Powills
No Limit Media Consulting
888.VIP.NLMC
###