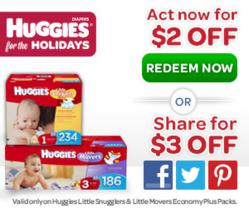 Share the savings on Facebook, Twitter or Pinterest to get an extra $1 off select Huggies diapers.
Neenah, Wisconsin (PRWEB) December 14, 2012
Take Advantage of Huggies for the Holidays diaper coupons and get the offer from December 14 – December 31. Moms and dads will get a $2 off coupon for Huggies Little Snugglers and Little Movers Economy Plus Packs diapers, but the discount doesn't end there. Share the savings with friends on Facebook, Twitter or Pinterest and get $3 off Little Snugglers and Little Movers diapers. That's an extra dollar off just for sharing! It doesn't get much easier than that.
Moms and dads can use their coupon on a smartphone, tablet or desktop to redeem this great deal. Huggies knows how busy parents are during the holidays, so combining deals with convenience is their way of saying thanks for everything they do.
When parents are getting that last minute shopping done for the holidays, they can throw in diapers to make sure that they're prepared for anything that comes their way this season.
During the holidays, it's Mom and Dad's job to make the season bright for the entire family, but they deserve something special more than anyone else during the holidays. That's why Huggies is celebrating the holidays by giving them this special offer.

Offer valid through 12/31/2012. No double discounts. Coupon may only be used one time per customer. Offer valid at Amazon.com.
For more information on Huggies please visit the website at http://www.huggies.com/en-US
###