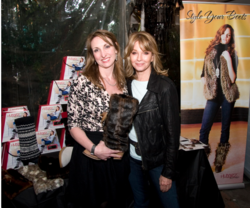 "Celebrities love Huggrz Boot Wraps; they were definitely one of their favorite product discoveries at Eco-Oscars," says producer and host Debbie Durkin.
Troy, MI (PRWEB) March 03, 2012
The Huggrz® Boot Wraps Hollywood gift suite tour started in Park City, Utah at the Sundance Film Festival where they earned the moniker "must have swag" and last week landed in Los Angeles at the Oscars in Debbie Durkin'sEco-Oscars Music, Celebrity and Pet Style Lounge and the Borgnine Celebrity Gifting Suite.
The first stop in LA was at Debbi Durkin's Eco-Oscars gifting suite held at the stunning Pickford Mansion where the Oscar-winning movie "The Artist" was filmed. Celebrity and VIP guests like Oscar winners Dan Lindsay and Tj Martin (Best Documentary, "Undefeated"), "One Tree Hill's" Barbara Alyn Woods, "Once Upon a Time's" Raphael Sbarge, "The Walking Dead's" Laurie Holden, "CSI: Miami's" Wes Ramsey, and "Revenge's "Emily Alyn Lind were treated to eco-luxury lifestyle brands.
Up and coming young stars like Brielle Barbusc ("The Starter Wife") and Camryn Molnar ("My Brother's Keeper") also enjoyed the eco-friendly event AND their Huggrz® Boot Wraps.
Debbie Durkin's Eco-Oscars event, a staple of the Oscars premier gifting suites, is run by sustainable film and television producer Debbie Durkin, and benefits Music Saves Lives ®, Hope, and the Fur Fitness Foundation. "Celebrities love Huggrz® Boot Wraps; they were definitely one of their favorite product discoveries at Eco-Oscars," says Durkin. "We invited Huggrz® to participate because of their sustainability factor -- made of faux fur in the USA, the kind of brand that gives back to our planet and the economy of our country that we support."
The event featured musical performances by Jenni Alpert, Mark Baldonado, Zach Callison, Ryan Boone, Pablo Blaqk, Aaron Novak, Kellie Lee, CeeJ, Doc Holiday, Poor Man's Poison and It Boys.
Next, Huggrz® took their selection of faux fur, knit and animal print boot wraps to Nancee Borgnine's Celebrity Gifting Suite held at the Sportmen's Lodge Hotel. Borgnine is the daughter of award-winning actor Ernest Borgnine who was also on hand at the event.
"I was so excited when I first read about and saw pictures of Huggrz®," said Borgnine. "They were just what I was looking for to compliment my winter wonderland theme for my event. And, to top if off, Huggrz® were even more fabulous in person. I know the celebrities who came to my event loved them and will definitely enjoy wearing them - and so will I!"
Young actors like Erica Tazel ("Justified") and Nolan Gould ("Modern Family") stopped by to meet Huggrz® founder Deb Miller and check out the boot wraps. Nickelodeon's "Supah Ninja" Carlos Knight, and "True Jackson's" Ashley Argota, also made the rounds, with Argota gushing about her Huggrz® Rabbit Faux Fur Boot Wraps, "Where have you been all my life?!"
It wasn't only today's youth who love their Huggrz® Boot Wraps, but also some of our favorite stars from past years (and today!). Award-winning actress and "Raising Hope" star, Cloris Leachman loved hers so much that she put them right on! "Days of Our Lives" star, Deirdre Hall coveted the Brown Striped Mink Faux Fur Huggrz; and everyone's favorite "Taxi" gal, Marilu Henner, styled a pair of black mink Huggrz with some accessories to match her son's football and lacrosse team's colors.
Other stars who stopped by to pick up the boot wraps for themselves and/or friends and families included Joe Mantegna, Estelle Harris, Chris McDonald, Victoria Pratt, Mindy Sterling, Shar Jackson, Kevin Sorbo, Lainie Kazan, Chris Rich, Bob Torti, Anson Williams, Doug Jones, Robert Gossett, and Tony Denison.
"As a startup brand and concept we really appreciated the guests' enthusiasm for our product and their willingness to help us spread the word," says Huggrz® founder, Deb Miller. Miller was recently the subject of a feature story in the Huffington Post: It Ain't Over Till It's Over: Hockey Mom Deb Miller Strikes Fashion Gold
Huggrz® Boot Wraps, the hot fashion trend sweeping the USA, Canada and Europe, are the original, patent-pending, boot cover that allows you to change the look of your boots to express your personal style and/or imitate the top boot trends of today. Fur today, animal print tomorrow, sweater knit the next day. Your boots will never feel boring again.
Huggrz® Boot Wraps are available in nearly 20 different fabrics, patterns and styles, and can be mixed and matched with fun Huggrz® accessories. Each collection makes a statement. Whether it's a faux fur, sweater or animal print boot cover, Huggrz® Boot Wraps have something for everyone to style the look of their boots. There is no size to worry about, so Huggrz® make a perfect gift.
Huggrz® Boot Wraps are made in America, are faux fur and eco-friendly.
###